BADMINTON COURTS FLOORING
UNLEASH YOUR SHOT POWER WITH VMKON SPORTS COURT AND TAKE YOUR BADMINTON TO A WHOLE NEW LEVEL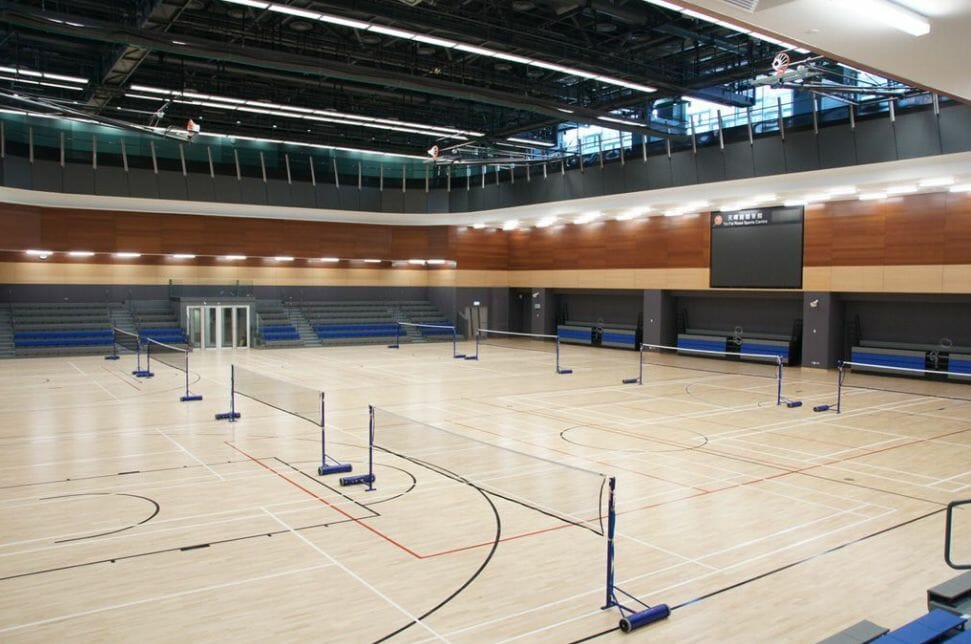 Macwood Standard Indoor Flooring
Badmiton is primarily played indoors, especially for competitive one. Yet, you still can have an outdoor badminton court for leisure and fun with your family and close friends.
Generally, wooden flooring, modular plastic tile and multi-layers synthetic surface are the most common flooring types for indoor badminton courts. While, for outdoor badminton court, modular perforated tile is often chosen for the easy installation, long-lasting durability and low maintenance.
However, each of the flooring options mentioned has its pros and cons. With VMKON's innovative flooring solutions, you can expect for a better playing experience, no matter indoors or outdoors.
Macwood Sports Flooring Systems for Premium Indoor Badminton Court
Most people love playing badminton on the highly athletic hardwood floors in gyms. While wooden flooring is expensive to maintain, You have to keep the HVACs system open even when the courts are not in use. Additionally, wooden flooring is vulnerable to a variety of exterior elements such as rising moisture, termite infestation, water leaking, or even flooding, the facility managers have to bear the risk of possible damages to their expensive wooden flooring assets.
As an upgraded alternative to traditional hardwood sports flooring systems, Macwood Indoor Flooring systems successfully solve these tough issues that have been bothering the whole wooden sports flooring industry from the first beginning, while never compromising athletic performance. Macwood systems have a wooden look and texture, are FIBA-approved, and are extremely durable against all kinds of exterior elements, as they are 100% synthetic!
Facility managers also can benefit greatly from Macwood systems, as they can significantly save the cost of electricity for HVACs and flooring maintenance. Especially during the rainy season, facility managers can have peace in their minds without worries about rainwater leaking and flooding.
Lastly, you can also add a custom graphic and logo to the Macwood surface to make your court stand out! 
VMKON Rezil Interlocking Sports Tiles for More Affordable Badminton Court
Traditional synthetic flooring solutions are more economic, but each of them has its drawbacks. For instance, PVC flooring is prone to fast wear out along the welding joints, rubber flooring has odors and turns dangerously slippery when wet, while pp interlocking sports tile is prone to build stress on joints and harsh for skin when sliding on the surface. So, we would highly suggest opting for our innovative VMKON Rezil interlocking tiles that offer a new level of playing experience with more comfortability and safety, compared with traditional polypropylene-based sports tiles.
The FIBA-certified GameChanger+, as the flagship model from the VMKON Rezil series, is the best ever interlocking sport tile product in the industry for its unmatched shock absorption, outstanding energy return surface, and safety-centric design. It has superior safety and comfort over traditional polypropylene-based counterparts. 
Nevertheless, it never compromises its athletic performance. According to the test result conducted by Labosports, It has a 100% ball bounce rate and 88 BPN slip-resistance, which ensures you to stride, sprint, jump fast and easy
GameChanger, as a more affordable commercial-level sports tile choice, is another top-notch model from the VMKON Rezil series. It has a unique surface design with a matte finish treatment, which results in an optimal balance between traction and skin abrasion and adds special aesthetic beauty to your badminton court.
What makes both GameChanger+ and GameChanger stand out is their innovative expansion joint designs which are engineered using patented LoopFlex technology that not only offers extra conformity to the minor undulations on the subfloor at the time of installation but also provides exceptional dimensional stability to the badminton court surface against temperature changes.
Backyard Badminton Court for Leisure and Fun
VMKON Rezil series flooring for badminton courts doesn't end here! We also have the backyard-level HomeGamer tiles for the highest cost-effectiveness. It is athletic, resilient, sturdy, and skin-friendly, so you can be assured your family is secured and safe playing on the HomeGamer backyard court. In addition, HomeGamer has an open-grid surface design that aids in slip resistance and fast drainage. All-in-all, it is an ideal interlocking sports tile option for low-traffic backyard and residential court floorings. 
The new generation and best ever plastic interlocking sports tile in the industry.

1. Certified as synthetic flooring for FIBA for 3×3 & Outdoor Flooring.  

2. Unmatchable athletic comforts and with 100% ball rebound rate. 

3. Minimizes skin abrasions by its surface design. 

4. LoopFlex expansion joints offers exceptional dimensional stability and conforms to minor undulations.

An affordable yet great option for commercial-level or heavy-use sports courts.

Key features include:

1. Excellent athletic performance with uniform ball bounce.

2. The characteristic resilience offers excellent cushioning for joint protection.

3. The unique surface design with matt finish ensures great grip and traction.

4. The patented LoopFlex connector in expansion joints prevents the court from cupping or warping issues.

5. Durable and long-lasting color retention.

Specifically designed for residential and backyard courts.

Key features include:-

1. Its structural design offers more energy return with consistent ball bounce.

2. The featured cushioning combined with the velvety material texture protects players.

3. The grid-open surface design offers great grip and traction.

4. Long life due to its weathering-resistance properties.

5. Food-grade materials used make it kids and pet-friendly. 

Upgraded alternative to premium indoor hardwood sports flooring.

Key Features Include:-

1. Athletic performance by fully meeting the requirements of FIBA level 1 court for wooden sports flooring 

2. Unmatchable durability and dimensional stability against temperature and climate changes. 

3. Low maintenance cost without need for opening HVACs

4. Custom color, logo and graphics available for team promotion and sponsor marketing.