TENNIS COURT FLOORING SOLUTIONS
HIT THE COURT AND SERVE UP SOME FUN! YOU CAN COUNT ON VMKON FOR YOUR COMMERCIAL AND HOME TENNIS COURTS.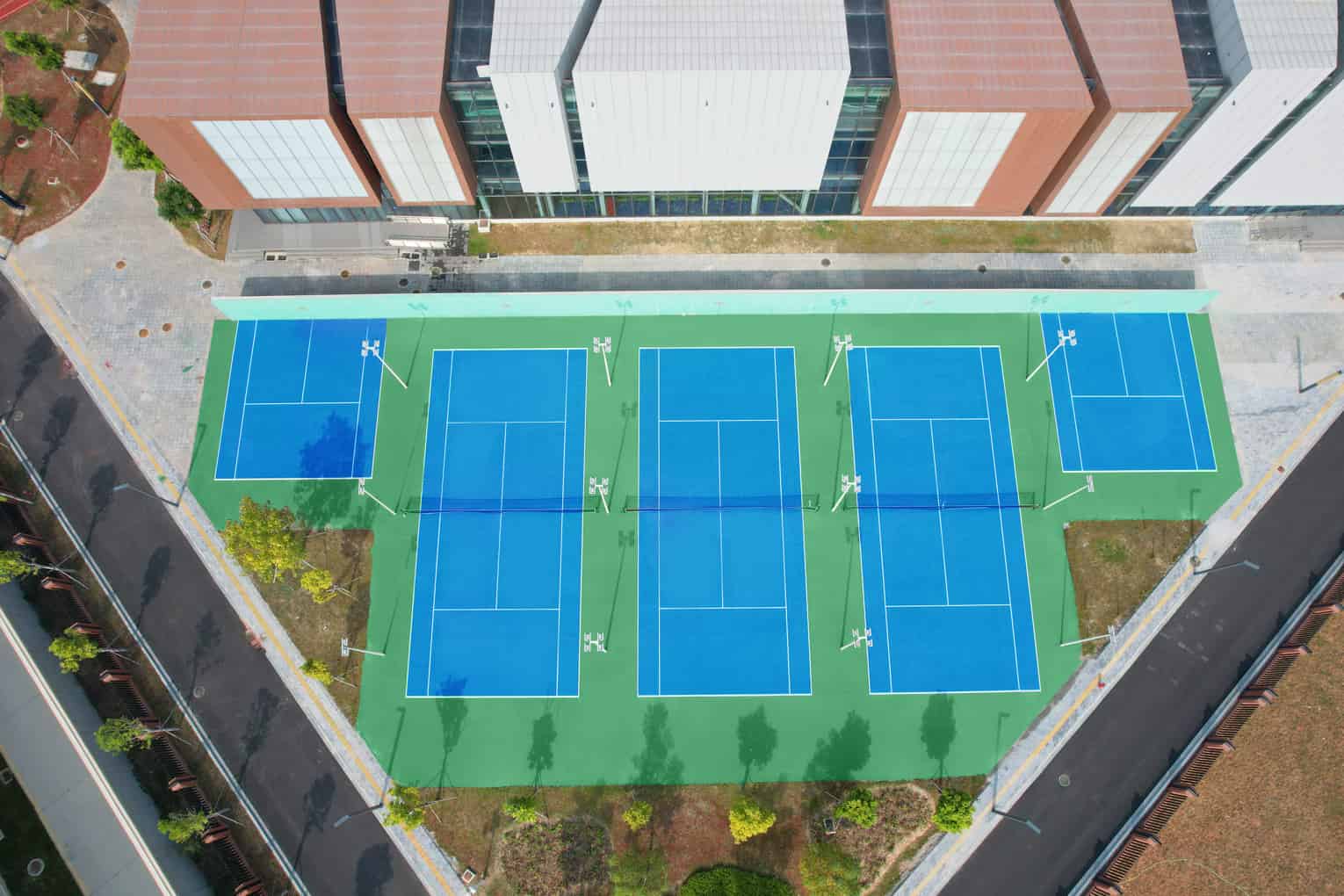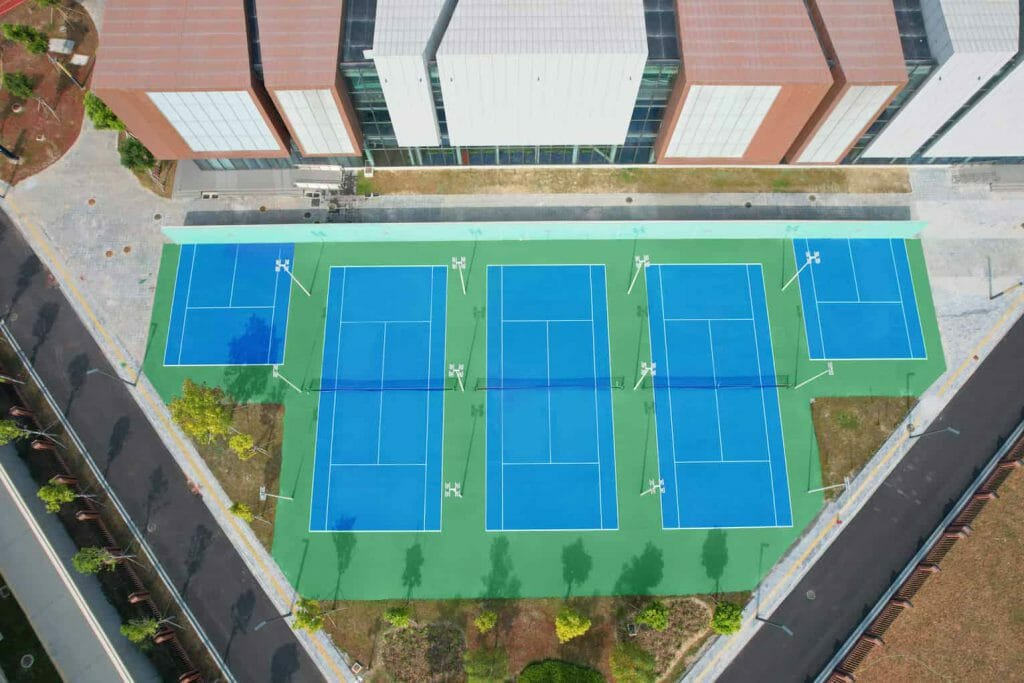 Macwood Standard Indoor Flooring
For an exciting game of tennis, players need a good grip on the court and a good ball performance. 
You can achieve all that, as well as better athletic performance, stability, and affordability, with VMKON Sports Innovative flooring solutions. We provide the best court tiles for your Indoor and outdoor home tennis court With this unbeatable combination, you can take your Tennis game to the next level.
With that in mind, a hard court is a famous surface for tennis worldwide due to its easy maintenance and versatility. It is suitable for various court types, making it a great choice for players of all skill levels.
We offer commercial-grade tennis courts that are designed to last and provide a safe, enjoyable playing surface. Our courts feature durable surfaces that are designed to stand up to the elements and provide a consistent playing experience.
There are a variety of hard court surfaces for tennis, from outdoor to indoor, low-end to high-end. Hardwood court is the classic choice, providing an aesthetically pleasing look, warmth, consistent ball bounce, and athletic comfort. Unfortunately, hardwood courts can only be built and maintained indoors and can be quite costly.
Macwood Sports Floorings for Premium Tennis Hard Court
With our unique Macwood sports flooring system, you can enjoy all the benefits of a premium commercial hardwood tennis court indoors and outdoors. Macwood is made of synthetic material but similar in appearance, feel, and athletic performance as traditional hardwood and is also incredibly durable against flooding, rainwater soaking, and scorching sunlight.
Furthermore, its physical properties make it highly resistant to temperature fluctuations, from extreme heat to extreme cold, making it ideal for use in various environments. As an upgraded hardwood sports flooring, Macwood Pro Indoor or Standard Indoor safeguards the floor from any potential damages caused by exterior elements like rising moisture or rainwater leaks. 
With Macwood hardwood courts, you can reduce energy consumption and save money by eliminating the need to run HVAC systems continuously throughout the year.
Macwood Portable Flooring for Tennis Tournaments
Macwood Sports Flooring System's Portable Variant is designed with modularity, allowing for easy assembly and disassembly. It is an ideal solution for venues that need a flexible and customizable flooring system.
Macwood Portable provides excellent quality and reliability for your tennis tournament with its durable and stable properties. In addition to its durability, it can be shipped and stored easily and without worry since it is resistant to chips, cracks, and other damages.
VMKON Interlocking Sports Tile for Home Tennis Court
For a home tennis court flooring solution, we recommend the Rebounce from VMKON Dura's Interlocking Sports Tiles series. These sports tiles are made of high-quality perforated PP. This cost-effective flooring solution will surely provide the perfect bounce for your court.
VMKON Dura Tennis tiles offer exceptional performance, long-lasting durability, and superior cushioning. Its unique grid-designed surface provides excellent grip and traction for a fast-paced game and a fast draining and drying feature that ensures it remains in peak condition.
VMKON Interlocking Sports Tile for Backyard Tennis Court
The VMKON interlocking sports tiles are a great option for low-maintenance and cost-effective backyard tennis courts. The tiles are made from Thermoplastic Elastomer (TPE) which is highly durable and resistant to wear and tear. It provides excellent traction, cushioning, and ball bounce properties, making it ideal for hard court surfaces. The tiles also require minimal maintenance with only occasional sweeping or hose-down required to keep the surface clean. With our experienced staff on hand, we can help you find the right solution for your tennis court project.
Rebound interlocking sports tiles are the perfect choice for competition racquet games such as tennis, pickleball, squash, paddleball, etc. Rebounce is a durable, heavy-duty, and color-retaining material. Because of its unique expansion joints, it has outstanding dimensional stability.

Key Features: 

1. Polypropylene makes Rebounce tough and durable. It's also mechanically tough and strong. 

2. With its unique engineering and extra-weight design, Rebounce gives you a better playing experience.

3. The tiles are easy to clean and come in various colors to match your child's favorite sports team.

Macwood outdoor flooring is designed to resist weathering and stain buildup. You can enhance your outdoor sports performance by bringing a hardwood court outside for the first time with Macwood Standard Outdoor.

Key Features: 

1. Complies with FIBA Level-2 for wooden floors. While the flooring has the appearance and feel of maple wood, it is made entirely from synthetic materials.

2. An extremely durable, UV-resistant wear layer on the tread surface provides high traction and a gripping surface.

3. These materials are highly resistant to water, UV light, termites, heavy loads, chemical agents, and other risks.

A revolutionary concept of outdoor sport court flooring that brings premium hardwood sports flooring from indoor to outdoor 

1. Athletic performance by fully meeting the requirements of FIBA level 1 court for wooden sports flooring. 

2. Unmatchable durability and dimensional stability against ever-changing weather and climate.

3. Low maintenance and easy to clean. 

4. Anti-fungal, anti-bacterial, and anti-mildew properties.

Upgraded alternative to premium indoor hardwood sports flooring.

Key Features Include:-

1. Athletic performance by fully meeting the requirements of FIBA level 1 court for wooden sports flooring 

2. Unmatchable durability and dimensional stability against temperature and climate changes. 

3. Low maintenance cost without need for opening HVACs 24/7  

4. Custom color, logo and graphics available for team promotion and sponsor marketing.