BASKETBALL COURTS AND ALL OTHER COURT SPORTS CAN BE PLAYED USING THE BEST SPORTS TILE FOR OUTDOOR COURTS
Known as the best-ever interlocking basketball flooring tile, GameChange+ is setting the new industry standard due to its unparalleled resilience, sturdy support, soft touch, and high-energy return surface, which outperforms traditional polypropylene interlocking sport tiles in virtually every capacity.
The GameChanger+ is an officially certified FIBA floor for 3×3, outdoor (Level-1), and indoor courts (Level-2) Basketball courts. With EN14904 certification, it is suitable for many other sports, including volleyball, badminton, and more.
Also, Our innovative tile is designed to provide long-lasting durability and style. The unique shape and interlocking tile allow for easy installation and maintenance and provide a modern look to any spot. With many color and pattern options, you're sure to find the perfect tile for you
The VMKON brand's GameChanger+ interlocking sports tile is manufactured from modified thermoplastic elastomer (TPE). This product is a step forward with its unparalleled resilience, comfortable touch, and high-responsive surface.
With its enhanced durability and superior playability, GameChanger+ offers an authentic premium sports surface for basketball court and other multiple sports as opposed to traditional hard plastic polypropylene interlocking sports tiles.
Thanks to its FIBA-certified synthetic surface, GameChanger+ provides unparalleled athletic performance. You will find that this surface provides you with optimum grip and traction in dry conditions, and you will also be prevented from slipping due to its 90 BPN linear friction. 
Also, It is equipped with a 100% ball rebound rate, making it ideal for fast-paced, competitive games. Your game will remain engaging and competitive due to its durability, reliable bounce, and consistent performance.
Features
Application
Colors
Specifications
Warranty
Features
Meet the requirement of FIBA Level-1 for 3×3 & outdoor basketball court
Meet the requirement of FIBA Level-2 for indoor synthetic flooring
The most comfortable and safest interlocking plastic tile with unparalleled shock absorption
Velvety texture ensures minimal skin abrasion and friction burns.
Outstanding dimensional stability with patent "LoopFlex" constructed in expansion joints
Excellent conformity to minor undulations on the substrates
Can withstand high-speed impacts and speed changes
Quick and easy DIY style installation.
Durable and long color-retaining in all weathering conditions.
Excellent water permeability for outdoor use ( > 10,000mm/h)
Non-toxic, food-grade material with compliance with SVHC, EN REACH, and ROHS.
Anti-Chemical, Anti-fungal, Anti-bacterial, Anti-Mildew
Custom logo, graphic & color scheme available.
Application
Colors
Specifications
Warranty
Unparalleled Athletic Performance, Comfortability and Safety
GameChanger+ is the Most Comfortable interlocking sports tile ever, offering superior cushioning and support compared to its competitors. With its unique thickness of 13mm(1/2″) or 16mm(5/8″), it provides a level of comfort unlike any other sports tile on the market. Its interlocking design makes installation and maintenance a breeze, and its durability ensures it will remain a reliable surface for years. 
Furthermore, you will receive:
19mm(3/4) thickness

for extra comfort and resilience.

TPE material

releases stress in muscles, joints, and low back. 

Shock absorption value of 30%

, double than PP-based tiles. 

Only 15% shock absorption in traditional PP sports tiles.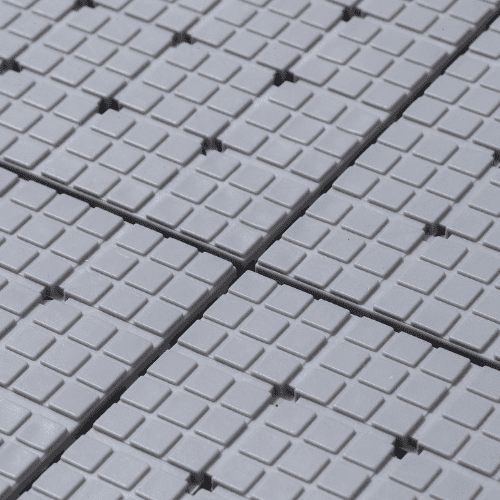 Heavy-Duty Tile with Sturdy Understructure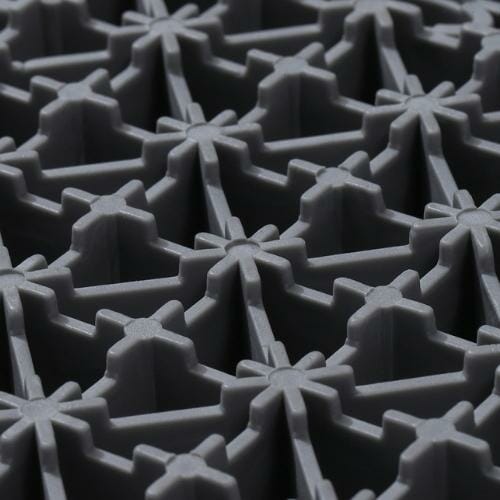 With its strong and durable construction, GameChanger+ is among the most reliable tiles available, even in the most demanding environments. With its heavy truncated 米 shape feet and thick-wall braces between each foot, GameChanger+ truly lives up to its reputation as the highest quality interlocking basketball flooring tile on the market.
Additionally, the tiles are designed to be aesthetically pleasing, adding a touch of charm to the overall appearance of the sports flooring. No matter how extreme the external forces are, the robust heavy-wall rectangle buckle will not crack or break. 
When comparing GameChanger+, you will see that: 
Weight per square meter or square foot is twice that of its competitors.

Provide players with a less cushioned and less energetic flooring experience.

Weight is of utmost importance for providing a cushioned and energetic flooring experience.

Robust heavy-wall rectangle buckle that will not crack or break under extreme external forces.
The Safest Interlocking Sports Tile Ever Made!
With a unique Diced Square surface texture with deburred edges and corners, GameChanger+ provides an extremely smooth touch to your palm, elbow, or knee when you slide as a result of a slide. GameChanger+ also features a unique shock absorption system that provides superior protection when falling while playing a game compared to its competition.
GameChanger+ is also made from a soft-touch TPE material, reducing the likelihood of friction burns. Other competitors' tiles are commonly made of hard plastic with a hard, abrasive surface for maximum friction. Playing on such a surface may prove hazardous and increase the risk of injury.
Therefore, Our tile is made from durable and resilient materials, ensuring maximum protection and longevity. The interlocking design ensures a secure fit and easy installation, making it a perfect choice for any sports flooring. Providing unbeatable safety features and an exceptional design, this sports tile is suitable for any surface.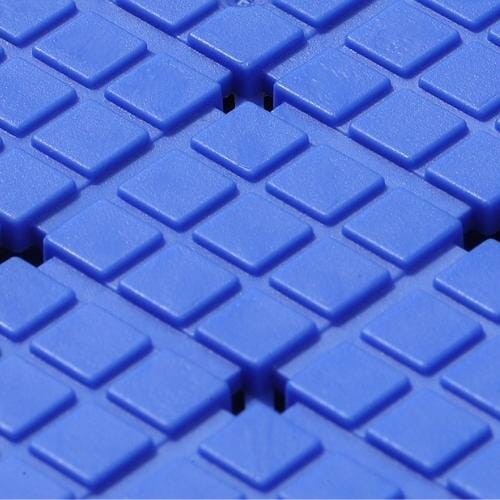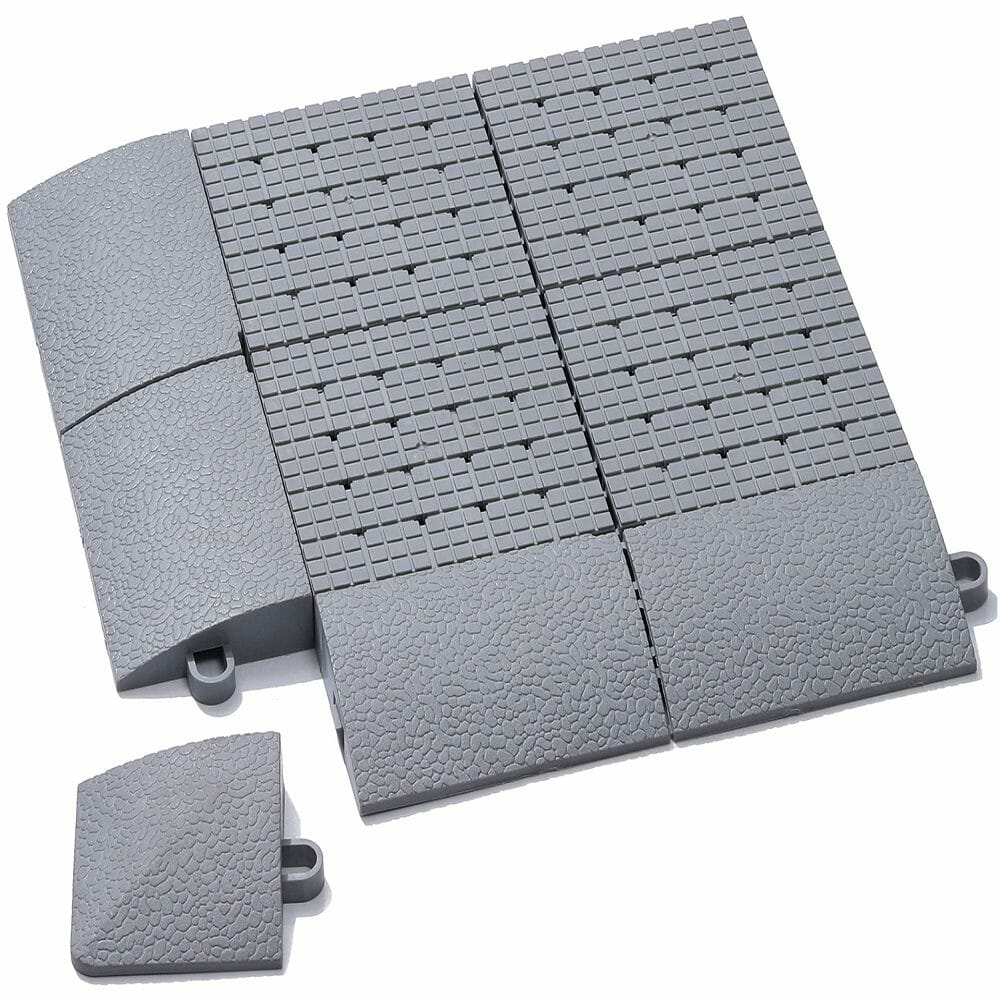 We developed the patented "LoopFlex" internal block connectors for expansion joints to address the cupping and warping commonly experienced during outdoor applications. Because of this, these issues are eliminated, and the expansion joints will perform reliably and effectively. As a result of its superior dimensional stability, GameChanger+ flooring can adapt to extreme heat or cold, providing enhanced thermal strain and deformation resistance.
Moreover, our GameChanger+ tiles include:
Low-emissions.

REACH & RoHS approved.

Quick and effective drainage.

Superior color retention capabilities.

Will not fade, peel, or lose effectiveness.

Antifungal, antibacterial, and antimildew.

Perforated surface design suitable for outdoor use.
GAMECHANGER+ TILE PROJECTS