ENCOURAGE FUN AND RELAXING BACKYARD SPORTS WITH YOUR FAMILY AND FRIENDS
Backyard Basketball Courts
Backyard Basketball Courts offer a premier basketball court experience for your home or business. Our custom-built, regulation-sized basketball courts are the perfect addition to any backyard, allowing you and your family to enjoy the thrill of a quality basketball game in the comfort of your own home. 
With an array of colors and materials to choose from, our basketball courts are designed to fit any style and budget. Plus, our courts are constructed using only the highest quality materials, ensuring a safe and durable playing surface for years to come. Whether you're looking for a quick pickup game or an all-day destination, VMON Backyard Basketball Courts are a great option.
The backyard sports court is a great place to play sports with friends. It is perfect when the weather is not good enough to go outside. The court is also great for when you want to practice your skills.
A lazy Sunday afternoon could not be more enjoyable if you had your own backyard court to play fun sports with your family and friends! It is a great way to bond and have fun, whether shooting hoops, playing soccer, or having a catch. 
Additionally, it is a great way to practice and perfect your sports skills before an upcoming match. Enjoy your time in the backyard court! It also is an ideal opportunity for your kids to discover different sports and hone their skills through practice at home.
At VMKON Sports, we provide various options for creating an indoor or outdoor sports court that fits your budget, preferences, and space requirements. We have solutions for all types of sports, including backyard basketball courts, backyard volleyball courts, backyard tennis courts, and more. Our experienced team can help you design and build a court that will provide years of enjoyment for your family and friends.
From a 3×3 basketball court to a half-court and multi-sports court, our team can help you create a cozy backyard court for your home. With our professional guidance, you can have a perfect court in your backyard in no time. You have two options: 
Backyard Volleyball Courts
Looking for some fun in the sun? Whether a beginner or a seasoned player, VMKON Backyard Volleyball Courts has you covered.  Enjoy the fun of playing a backyard volleyball game with friends and family. 
Our volleyball courts are designed to give you the best playing experience possible, with quality nets and durable surfaces that will last for years. With our courts, you'll have the perfect place to practice your serve or challenge your opponents to a friendly game. Plus, our courts are always maintained and in great condition. Come on out and give us a try. 
Enjoy the game of tennis in the comfort of your own backyard with VMKON Backyard Tennis Courts. Our high-quality courts provide a safe and fun atmosphere for you and your family to enjoy. 
Our courts are designed to be durable and long-lasting, allowing you to have years of fun. With multiple court sizes available, there is something for everyone. So come and join us and experience the joy of tennis in your backyard.
High-quality Backyard Court Flooring
FIBA Level-2 certified Macwood Standard Outdoor Flooring System is an ideal option for those who wish to have a premium hardwood court in their backyard. It is the ideal choice for creating a long-lasting outdoor basketball court with superior quality, durability, and safety features.
With this innovative design, you can experience a hardwood court experience that can endure extreme weather conditions, such as blazing sun or heavy rain. Installing and maintaining the Macwood Standard Outdoor system is similar to installing and maintaining traditional hardwood courts.
GameChanger is our next flooring option; it is a revolutionary elastomer tile with a perforated surface and matte finish. A high degree of comfort, durability, and style make it the ideal choice for any space in the home. Due to its unique perforations, the tile allows air to circulate, thereby regulating temperature and reducing noise levels. Matte finishes reduce glare and provide a timeless appearance. GameChanger is the perfect flooring solution – offering versatility, comfort, and style.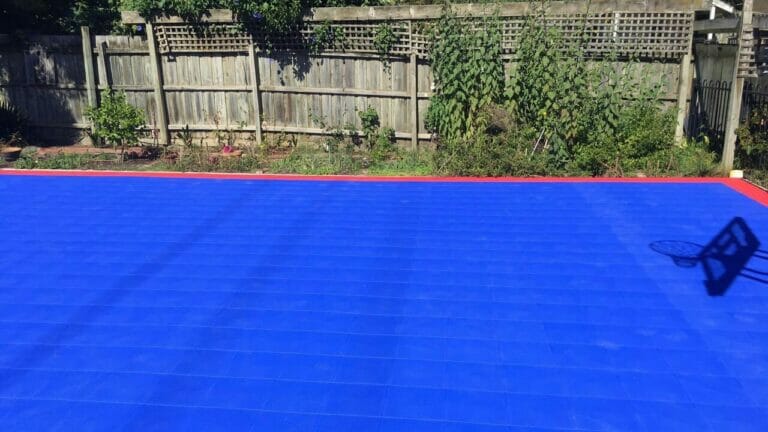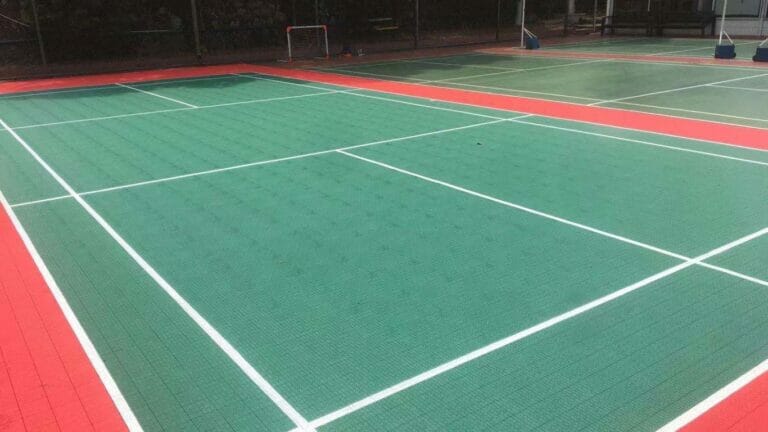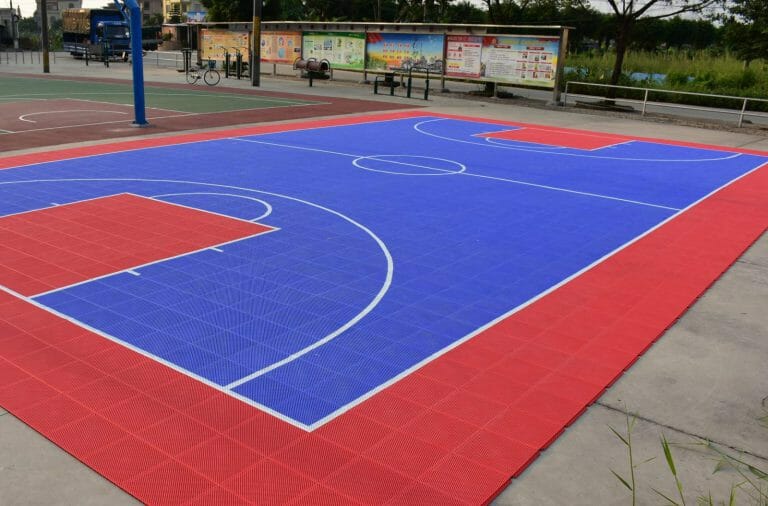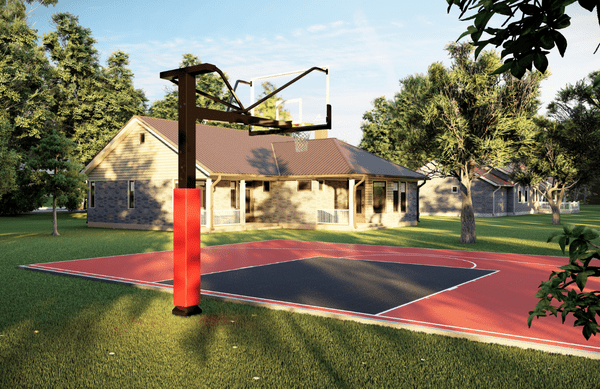 DIY Backyard Basketball Court
This product provided excellent shock absorption and lateral forgiveness, reducing joint stress due to its soft material and patented Loop Flex-engineered expansion joints. Furthermore, it offers greater conformity to minor undulations on the ground, making installation easier and faster. Additionally, the court can maintain outstanding dimensional stability against thermal expansion and contraction.
Bring the DIY basketball court to your backyard! VMKON backyard court includes everything you need to create a full-sized, professional-looking basketball court in your own yard. It comes with a pre-cut and pre-marked polyurethane sport surface designed for maximum grip. Package will also included assembly instructions make it easy to set up your court in no time at all. Whether you're looking for an area for family fun or want to take your game to the next level, these DIY backyard basketball court tiles are perfect for everyone. Get ready to shoot some hoops!
Video: DIY Backyard Basketball Court
Budget-Friendly Backyard Court
We also offer the HomeGamer tile, designed specifically for residential and backyard courts. It features a double-layered structural design that provides a higher and more consistent ball bounce and enhanced energy return. Because of its open-grid surface pattern, it provides fast drainage and optimal slip resistance, as well as preventing friction burns and bruises.
Furthermore, we offer basketball backstops and a wide range of court accessories, including lighting, fencing, and more. We also specialize in upscaling and resurfacing old and worn-out backyard courts. We can provide you with the best options for your backyard court, so don't hesitate to contact us and let us guide you through the process.
We can provide an accurate quote and answer any questions about the installation process. We look forward to helping you create a backyard court that meets all your needs.
The new generation and best ever plastic interlocking sports tile in the industry.

1. Certified as synthetic flooring for FIBA for 3×3 & Outdoor Flooring.  

2. Unmatchable athletic comforts and with 100% ball rebound rate. 

3. Minimizes skin abrasions by its surface design. 

4. LoopFlex expansion joints offers exceptional dimensional stability and conforms to minor undulations.

An affordable yet great option for commercial-level or heavy-use sports courts.

Key features include:

1. Excellent athletic performance with uniform ball bounce.

2. The characteristic resilience offers excellent cushioning for joint protection.

3. The unique surface design with matt finish ensures great grip and traction.

4. The patented LoopFlex connector in expansion joints prevents the court from cupping or warping issues.

5. Durable and long-lasting color retention.

Specifically designed for residential and backyard courts.

Key features include:-

1. Its structural design offers more energy return with consistent ball bounce.

2. The featured cushioning combined with the velvety material texture protects players.

3. The grid-open surface design offers great grip and traction.

4. Long life due to its weathering-resistance properties.

5. Food-grade materials used make it kids and pet-friendly. 

Upgraded alternative to premium indoor hardwood sports flooring.

Key Features Include:-

1. Athletic performance by fully meeting the requirements of FIBA level 1 court for wooden sports flooring 

2. Unmatchable durability and dimensional stability against temperature and climate changes. 

3. Low maintenance cost without need for opening HVACs

4. Custom color, logo and graphics available for team promotion and sponsor marketing. 

Recommended for gym, training facilities, school and colleges.

1. In compliance with FIBA code for Level-2 backdrop.

2. Rigid and stable with heave-gauge frame and boom structure.

3. Easy maneuverability for goal height adjustment with wireless control or manually.

4. Custom graphic available for team promotion and sponsor marketing.

5. Collapsible structural design for ease of shipping and installation.