MULTI-SPORT COURT FLOORING
LOOKING FOR A MULTI-SPORT COURT IN A SINGLE AREA? LET VMKON SPORTS MULTI-SPORT COURT FLOORING PROVIDE THE BEST SOLUTION FOR YOU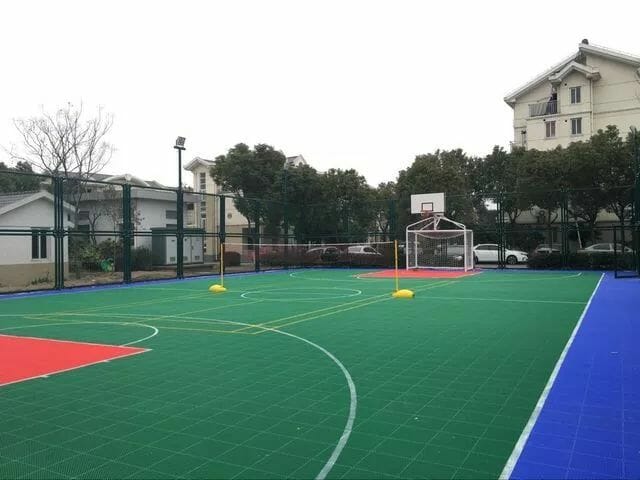 VMKON Premium Indoor and Outdoor Multi-Sport Court Flooring
If you are the proud owner of a high-scale sports facility, fitness center, school gymnasium, or any other sporting facility. In that case, VMKON Sports should be your top choice regarding flooring. With its superior design, quality, and durability, VMKON Sports is the perfect choice for any sporting environment.
These tiles are designed to provide a safe and comfortable playing surface that can be used for various sports, from basketball to tennis. We offer various flooring options renowned for their superior athletic performance, durability, and resistance to a wide range of internal and external factors, making them the ideal choice for any application.
Multi-Sport Court Flooring
We provide a wide variety of high-quality multi-sport court flooring for outdoor, indoor, commercial, and residential uses. Our multi-sport court flooring is designed to optimize performance, safety, and durability for all sports and activities. With our superior quality and customer service, we will surely provide you with the best multi-sport court flooring to meet your needs.
With innovative materials and VMKON technology, our flooring is durable, comfortable, safe, and promotes athletic performance. This advanced technology provides superior performance and longevity, making it ideal for any environment.
Top Quality Sport Court Flooring
Designed specifically for use indoors and outdoors, the Macwood Pro and Standard flooring series provide players with an enhanced hardwood experience. Now, they have the opportunity to experience a hardwood playing experience outside as well as at home for the first time.
Premium premofiber material is used for the upper shell, reinforced plastic is used for the understructure, rubber padding, and plastic leveling adjusters. As a result, players can experience first-class shock absorption and superb ball performance for intense gameplay.
Best Interlocking Sports Court Flooring
The VMKON-Rezil series, including the GameChanger+ and GameChanger, provides a safe and comfortable gaming experience. With superior performance and an enjoyable gaming experience, these sports courts can provide users with a great gaming experience. Both the tiles of the GameChanger+ are made of innovative thermoplastic elastomers, providing high athletic performance, and are certified by FIBA as Level-1 flooring for 3×3 & outdoor courts.
Featuring a 19mm thickness and rounded-square surface pattern, the GameChanger tile is a high-performance, cost-effective flooring solution. It's perfect for commercial court flooring applications, offering a thinner yet energy-returning option compared to other flooring tiles.
Racquet Sport Court Flooring
The VMKON-Dura Rebounce tiles are the ideal solution for games that require a hard and flat surface, such as racquet sports. This tile is made of hard polypropylene material, is extremely durable, and withstands heavy usage. With the tile, you will experience an even bounce, improved accuracy, and a more enjoyable gaming experience.
Designed with an open-grid surface, these tiles have a 17mm thickness that makes them slip-resistant and comfortable to play on for a long period. Featuring snap-together buckles, installation is simple.
''Enjoy Professional-Grade Sports Courts With VMKON's Multi-Sport Court Flooring''
VMKON's multisport court flooring tiles allow you to play different sports safely and comfortably. Its durable materials, interlocking design, and resistance to wear and tear make it easy to install and maintain. VMKON multi-sport court flooring tiles are the perfect solution for creating a professional-grade court in any location.
The new generation and best ever plastic interlocking sports tile in the industry.

1. Certified as synthetic flooring for FIBA for 3×3 & Outdoor Flooring.  

2. Unmatchable athletic comforts and with 100% ball rebound rate. 

3. Minimizes skin abrasions by its surface design. 

4. LoopFlex expansion joints offers exceptional dimensional stability and conforms to minor undulations.

An affordable yet great option for commercial-level or heavy-use sports courts.

Key features include:

1. Excellent athletic performance with uniform ball bounce.

2. The characteristic resilience offers excellent cushioning for joint protection.

3. The unique surface design with matt finish ensures great grip and traction.

4. The patented LoopFlex connector in expansion joints prevents the court from cupping or warping issues.

5. Durable and long-lasting color retention.

Specifically designed for residential and backyard courts.

Key features include:-

1. Its structural design offers more energy return with consistent ball bounce.

2. The featured cushioning combined with the velvety material texture protects players.

3. The grid-open surface design offers great grip and traction.

4. Long life due to its weathering-resistance properties.

5. Food-grade materials used make it kids and pet-friendly. 

Upgraded alternative to premium indoor hardwood sports flooring.

Key Features Include:-

1. Athletic performance by fully meeting the requirements of FIBA level 1 court for wooden sports flooring 

2. Unmatchable durability and dimensional stability against temperature and climate changes. 

3. Low maintenance cost without need for opening HVACs

4. Custom color, logo and graphics available for team promotion and sponsor marketing.