SPORTS AND RECREATIONAL PARKS
VMKON SPORTS OUTDOOR FLOORING OPTIONS ARE PERFORMANT AND PERFECT FOR TRAINING OUTDOORS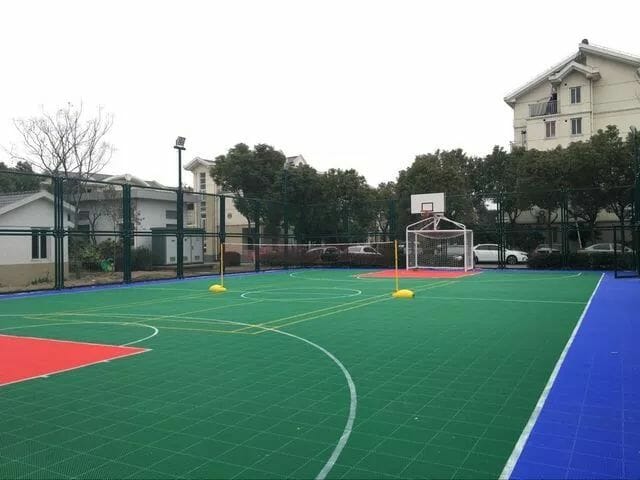 Sports and Recreational Parks
Sports and Recreational Parks are a great way to stay active and have fun. They provide a safe and fun environment for people of all ages to enjoy a variety of sports and recreational activities. Furthermore, each individual has a different preference when it comes to free time. 
Some people enjoy relaxing with a good book, while others prefer to stroll. Many people also use sports to help them unwind and destress. No matter the activity, it is important to take the time to enjoy and relax during your free time.  
Whether it's a game of basketball, soccer, baseball, or a round of golf, there is something for everyone. Nothing is better than getting some exercise and fresh air at the local sports and recreational park.
VMKON High Quality Outdoor Flooring
A worn-out sports court with chips and fading tiles in your local park can have a negative impact on your enjoyment of the facility. Upgrade the court's features by installing new, vibrant tiles and adding additional nets or hoops. This will make the court much more inviting and enjoyable to use. A basketball or multi-sports court that is aesthetically pleasing and immaculately crafted looks inviting and inspires one to get out and play!
VMKON Sports offers the most durable and highly athletic outdoor flooring for high-traffic sports courts. Athletes can enjoy a safe and enjoyable playing experience with our flooring, constructed with quality materials and the latest technology.
Modern Interlocking Sports Flooring
The GameChanger+ is our revolutionary modular interlocking sports tile made from an innovative elastomer material. Its 19mm thickness provides superior shock absorption, helping prevent bruises and reduce joint stress. Featuring an innovative rounded-square pattern, the surface provides superior grip and prevents slipping.
Providing lateral flexibility to the players, the LoopFlex connectors in the expansion joints prevent thermal shock from damaging the court. This ensures that the court remains level despite temperature changes, allowing for an optimal playing experience.
You can customize the perfect look for your sport court or gym with various colors and designs available. Get the performance and style you need with modern interlocking sports flooring.
Our Rebounce Interlocking Sport Tile is suitable for racquet sports, outdoor inline hockey, skating, and other activities requiring a flat, hard surface. The surface provides a durable, reliable surface capable of withstanding the rigors of any sporting activity. This hard surface provides excellent energy return and ball bounce for fast and dynamic play that will ensure a competitive game. 
The suspended understructure design assures players of a safe and comfortable playing experience, even though the surface may be hard. Additionally, the open-grid surface design will ensure rapid drainage and drying after heavy rainfall, allowing the court to be ready for play as soon as possible after a rain storm.
The new generation and best ever plastic interlocking sports tile in the industry.

1. Certified as synthetic flooring for FIBA for 3×3 & Outdoor Flooring.  

2. Unmatchable athletic comforts and with 100% ball rebound rate. 

3. Minimizes skin abrasions by its surface design. 

4. LoopFlex expansion joints offers exceptional dimensional stability and conforms to minor undulations.

An affordable yet great option for commercial-level or heavy-use sports courts.

Key features include:

1. Excellent athletic performance with uniform ball bounce.

2. The characteristic resilience offers excellent cushioning for joint protection.

3. The unique surface design with matt finish ensures great grip and traction.

4. The patented LoopFlex connector in expansion joints prevents the court from cupping or warping issues.

5. Durable and long-lasting color retention.

Specifically designed for residential and backyard courts.

Key features include:-

1. Its structural design offers more energy return with consistent ball bounce.

2. The featured cushioning combined with the velvety material texture protects players.

3. The grid-open surface design offers great grip and traction.

4. Long life due to its weathering-resistance properties.

5. Food-grade materials used make it kids and pet-friendly. 

Upgraded alternative to premium indoor hardwood sports flooring.

Key Features Include:-

1. Athletic performance by fully meeting the requirements of FIBA level 1 court for wooden sports flooring 

2. Unmatchable durability and dimensional stability against temperature and climate changes. 

3. Low maintenance cost without need for opening HVACs

4. Custom color, logo and graphics available for team promotion and sponsor marketing.