''ENJOY THE BEST FUTSAL SPORT COURT EXPERIENCE AT VMKON SPORTS, NO MATTER WHAT YOU DO''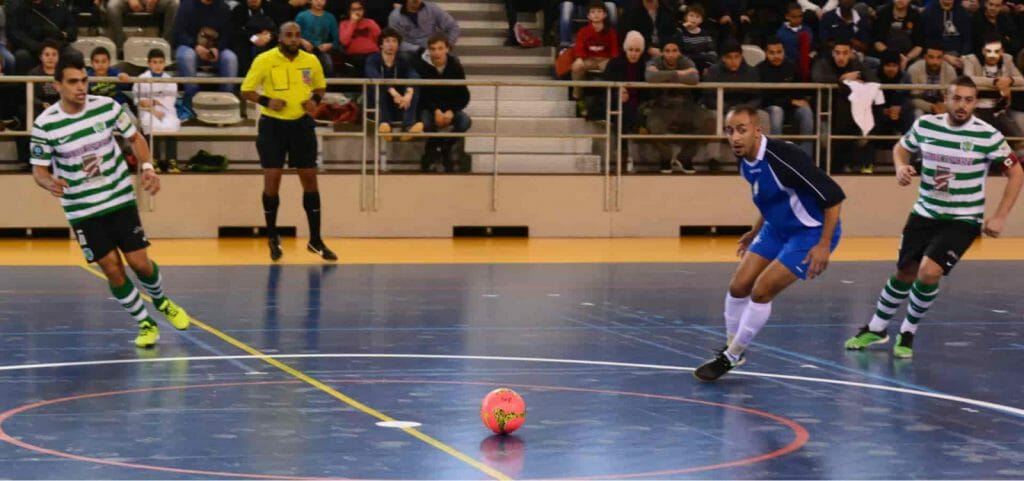 VMKON Indoor and Outdoor Futsal Court Flooring
Futsal is a fast-paced, action-packed version of football played on a hard court. To ensure a safe, competitive, and enjoyable game, it is important to have a high-performance flooring system with good slip resistance and ample cushioning. This will allow players to move quickly and confidently while maintaining ball control.
The VMKON Indoor and Outdoor Futsal Court Flooring is perfect for any indoor or outdoor futsal court. The flooring is made from high-quality materials that will last for years. The flooring is also easy to clean, making your court look perfect.
Premium and Innovative Macwood Sports Flooring
For a fast-paced game of futsal on premium, hardwood-like courts, look no further than VMKON Sports. The Macwood Pro and Standard flooring systems allow you to enjoy the same professional quality courts used by top-level players worldwide. Get ready for a game-changing experience with VMKON Sports.
Compared to traditional hardwood futsal court flooring, these floors are designed with cutting-edge technology. They are designed to provide a higher level of durability, stability, and performance, making them ideal for competitive and recreational play.
Also, the Macwood Sports Flooring is designed for easy installation and maintenance, making it a great choice for any court. With its superior performance and durable construction, the Macwood Sports Flooring is the perfect choice for any Futsal court.
The advancement of technology has contributed to a breakthrough in sports history. Due to its exceptional durability in all climates and weather conditions, this flooring system allows for a hardwood court to be played in the open.
This means that laminate flooring is highly resistant to chipping, cracking, and swelling due to water accumulation from rain or flood and expansion or contraction due to changes in moisture level. Furthermore, it is cost-effective to install and maintain compared to hardwood flooring.
An Affordable and High-Quality Interlocking Sports Flooring
As a leading sports flooring tile provider VMKON offers a range of interlocking sports flooring tiles that are durable and easy to install. Their flooring tiles are designed with athletes in mind and provide an ideal surface for any sport. 
If you're looking for easy-to-install interlocking sports tiles, then our GameChanger+ and GameChanger sports tiles are a perfect choice. These tiles are incredibly simple to install and provide a durable, high-performance surface for your favorite sports.
With exceptional resilience, they're made from an innovative elastomer material. Futsal players enjoy a comfortable and enjoyable game when LoopFlex technology is combined with the expansion joints.
In addition to providing a strong grip and superior slip resistance, GameChanger+ also features an intricate rounded-square pattern and a slightly perforated surface with a matte finish for an overall smooth, non-abrasive surface. Moreover, both models offer excellent drainage properties, making them ideal for use outdoors.
GameChanger Interlocking Sports Tile is an innovative solution for sports flooring, providing superior durability and performance. This innovative product features a distinct surface pattern that offers optimal performance on commercial-level basketball courts and volleyball courts.

Key Features:

1. Maximize energy return with consistent ball bounce, an ideal characteristic for recreational play.
2. The ultimate safeguard against injuries and bruises, expertly absorbing shock with optimum protection.
3. This FIBA-certified tile has velvety texture that provides users a welcoming, comfortable experience, minimizing the likelihood of skin abrasion and friction burns.

This is a really cool interlocking sports tile. The HomeGamer is a great surfacing solution for athletes. As the name suggests, HomeGamer is made of modified TPE. You can feel safe with its incredible resilience. 

Key Features:

1. HomeGamer can easily be compared to its competitors by comparing the weight per square meter or square foot.

2. With its grid-open surface design, the product offers excellent grip and traction. 

3. HomeGamer courts are easy to install. Put the tiles together and buckle them down easily.

The ELASTIMAX Interlocking Sports Tiles are a great option for any sports enthusiast. This tile is made of thermoplastic elastomer. With Elastimax tile, it's easy to minimize the risk of injuries on preschool playgrounds and kindergarten sports courts. 

Key Featrues: 

1. Designed with cylindrical connectors, the expansion joints provide ample thermal expansion and contraction to cope with summer heat and winter cold.

2. With sufficient grip and traction, this is a kid's favorite surface.

3. Elastimax tile resists fungi, bacteria, and mildew, so the playground surface always stays clean.

Rebound interlocking sports tiles are the perfect choice for competition racquet games such as tennis, pickleball, squash, paddleball, etc. Rebounce is a durable, heavy-duty, and color-retaining material. Because of its unique expansion joints, it has outstanding dimensional stability.

Key Features: 

1. Polypropylene makes Rebounce tough and durable. It's also mechanically tough and strong. 

2. With its unique engineering and extra-weight design, Rebounce gives you a better playing experience.

3. The tiles are easy to clean and come in various colors to match your child's favorite sports team.

Macwood outdoor flooring is designed to resist weathering and stain buildup. You can enhance your outdoor sports performance by bringing a hardwood court outside for the first time with Macwood Standard Outdoor.

Key Features: 

1. Complies with FIBA Level-2 for wooden floors. While the flooring has the appearance and feel of maple wood, it is made entirely from synthetic materials.

2. An extremely durable, UV-resistant wear layer on the tread surface provides high traction and a gripping surface.

3. These materials are highly resistant to water, UV light, termites, heavy loads, chemical agents, and other risks.
An affordable yet great option for commercial-level or heavy-use sports courts.

Key features include:

1. Excellent athletic performance with uniform ball bounce.

2. The characteristic resilience offers excellent cushioning for joint protection.

3. The unique surface design with matt finish ensures great grip and traction.

4. The patented LoopFlex connector in expansion joints prevents the court from cupping or warping issues.

5. Durable and long-lasting color retention.

Specifically designed for residential and backyard courts.

Key features include:-

1. Its structural design offers more energy return with consistent ball bounce.

2. The featured cushioning combined with the velvety material texture protects players.

3. The grid-open surface design offers great grip and traction.

4. Long life due to its weathering-resistance properties.

5. Food-grade materials used make it kids and pet-friendly. 

Upgraded alternative to premium indoor hardwood sports flooring.

Key Features Include:-

1. Athletic performance by fully meeting the requirements of FIBA level 1 court for wooden sports flooring 

2. Unmatchable durability and dimensional stability against temperature and climate changes. 

3. Low maintenance cost without need for opening HVACs

4. Custom color, logo and graphics available for team promotion and sponsor marketing.