ADVANCE YOUR ATHLETIC GROWTH WITH THE BEST ATHLETIC EXPERIENCE OF VMKON HANDBALL COURTS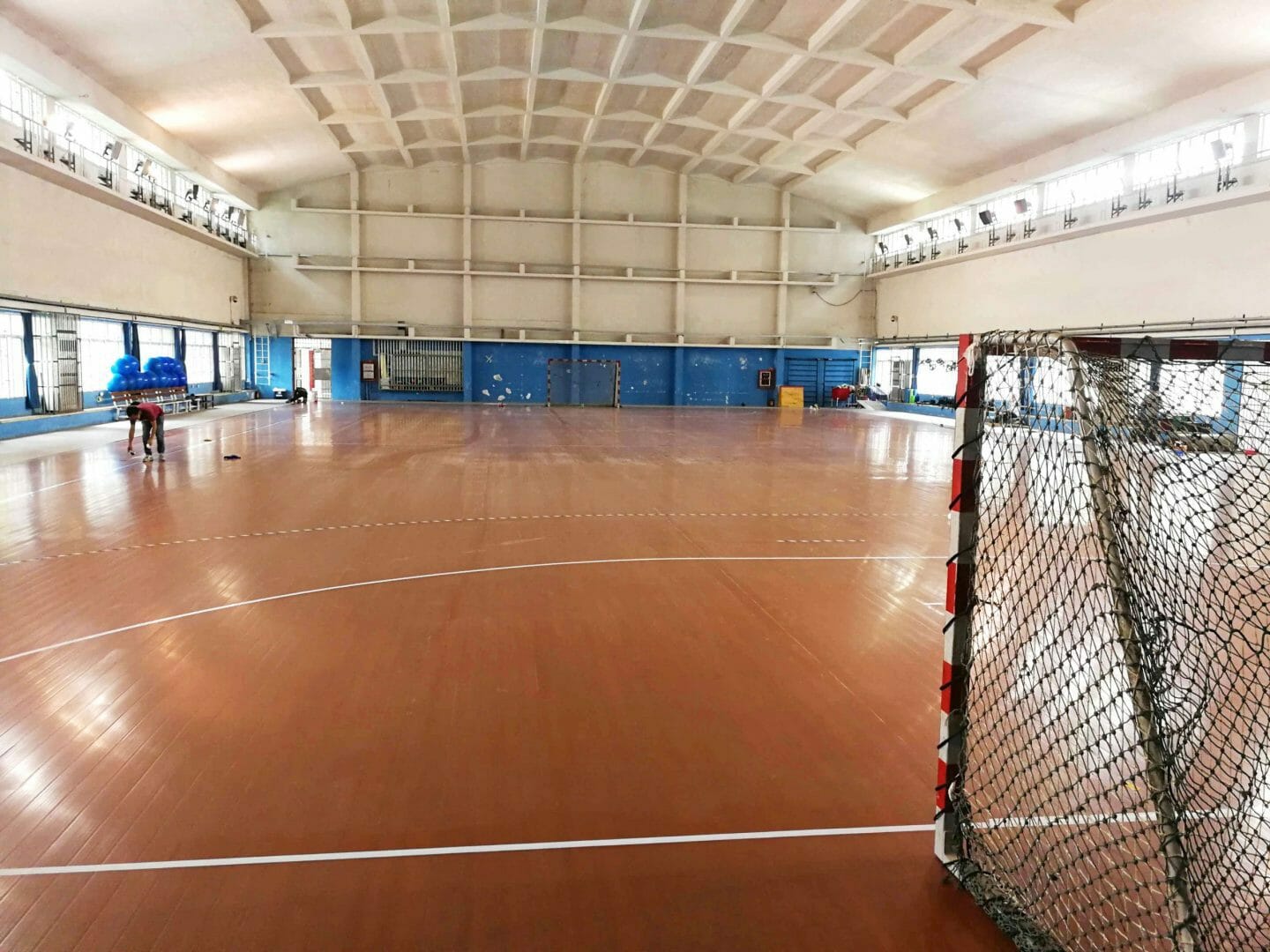 Handball is a fast, intense, and exhilarating sport that requires players to sprint constantly, pivot, spin, leap, and tumble.
Handball courts are typically very slippery, so it is important to have flooring that will not leave the player stranded when they fall. Also, Handball courts need flooring that absorbs shock, bounces balls consistently, and doesn't cause friction to burn.
VMKON Sports offers premium sports flooring solutions that can elevate your playing experience to unprecedented heights. Our innovative flooring options are designed to provide superior performance, comfort, and durability so that you can enjoy a truly remarkable sports experience.
Macwood Sports Flooring for an Exceptional Handball Court
Hardwood flooring is ideal for indoor handball courts due to its superior athletic performance and attractive aesthetic. However, hardwood flooring requires significant maintenance and cannot be installed in outdoor areas due to the damaging effects of weather and other external elements.
VMKON Sports has revolutionized the hardwood flooring industry with its revolutionary Macwood Sports Flooring system. Featuring superior durability, superior playability, and superior sustainability, the Macwood Sports Flooring system has completely transformed the landscape of the hardwood sports flooring industry.
The Macwood Sports Flooring System is an updated hardwood court flooring that offers superior durability to all kinds of risky elements, such as flooding, rainwater leaking, moisture issues, and termite infestations – elements that hardwood floorings typically struggle to withstand. It is an upgraded alternative to traditional indoor hardwood court flooring, providing a safe and reliable solution to various potential problems.
Additionally, Macwood flooring systems provide peace of mind to sports facility managers and save them money on daily maintenance costs. Also, Macwood can be used outside without fear of being damaged by changing weather conditions.
VMKON Sports provides two types of Macwood systems – the Macwood Indoor Series and Macwood Outdoor Series – that meet the requirements of the EN14904 Standard for multisports court and are approved by FIBA as qualified sports flooring. Both systems are designed to provide superior performance, durability, and safety.
Transform Your Handball Court with VMKON Interlocking Sports Tiles
No matter your budget or portability requirements, you do not need to compromise on the athletic performance of your handball court when choosing interlocking sports tiles. Many options provide excellent flooring performance while still being affordable and portable.
With our revolutionary VMKONRezil interlocking sports tile options, you can enjoy a premium sports flooring experience with unparalleled comfort, safety, and durability – far exceeding that of traditional polypropylene sports tiles. Our tiles are designed to provide maximum shock absorption, allowing for a more enjoyable and safe sports experience.
GameChanger+ is the perfect interlocking sport tile from VMKONRezil. This flagship product boasts an extra-thick 19mm design, made from an elastomer material for superior shock absorption of over 30%, as verified by Labosports. With its unbeatable resilience and price, GameChanger+ is ideal for any sporting enthusiast.
The exceptional shock-reduction performance of GameChanger+ drastically reduces the likelihood of impact-related injuries. Additionally, the soft-touch elastomer material and specially-engineered surface pattern of the product ensure maximum safety for users, as it prevents friction burns when sliding on the floor.
The resilient and soft-touching texture of GameChanger+ never compromises its exceptional athletic performance. It is officially certified by FIBA as a Level-1 flooring for 3 x 3 courts, boasting a 100% ball bounce rate. Moreover, the surface pattern has been specially designed to provide optimal grip and traction, allowing players to play and practice handball quickly and competitively.
You can also choose the VMKONRezil GameChanger tile series for the perfect balance between high performance and value for money. This series is the most popular commercial-level tile product, offering the optimal combination of quality and affordability.
Due to its unique surface pattern, it will provide a very attractive appearance to your court. Furthermore, because of the elastomer material, it is made of, it provides much better protection than traditional polypropylene sports tiles.
Finally, the expansion joints of GameChanger and GameChanger+ are equipped with patented LoopFlex technology. Because of this technology, the sports court will not only be easier to install since it provides extra conformity to the undulations of the subfloor. But it will also offer superior dimensional stability, preventing arching and cupping caused by extreme weather conditions.
The new generation and best ever plastic interlocking sports tile in the industry.

1. Certified as synthetic flooring for FIBA for 3×3 & Outdoor Flooring.  

2. Unmatchable athletic comforts and with 100% ball rebound rate. 

3. Minimizes skin abrasions by its surface design. 

4. LoopFlex expansion joints offers exceptional dimensional stability and conforms to minor undulations.

An affordable yet great option for commercial-level or heavy-use sports courts.

Key features include:

1. Excellent athletic performance with uniform ball bounce.

2. The characteristic resilience offers excellent cushioning for joint protection.

3. The unique surface design with matt finish ensures great grip and traction.

4. The patented LoopFlex connector in expansion joints prevents the court from cupping or warping issues.

5. Durable and long-lasting color retention.

Upgraded alternative to premium indoor hardwood sports flooring.

Key Features Include:-

1. Athletic performance by fully meeting the requirements of FIBA level 1 court for wooden sports flooring 

2. Unmatchable durability and dimensional stability against temperature and climate changes. 

3. Low maintenance cost without need for opening HVACs

4. Custom color, logo and graphics available for team promotion and sponsor marketing.