PICKLEBALL FLOORING SOLUTIONS
OUR CUSTOM-MADE COURTS ARE DESIGNED TO GIVE PLAYERS THE BEST POSSIBLE EXPERIENCE AND YOU'LL HAVE AN ENJOYABLE EXPERIENCE EVERY TIME!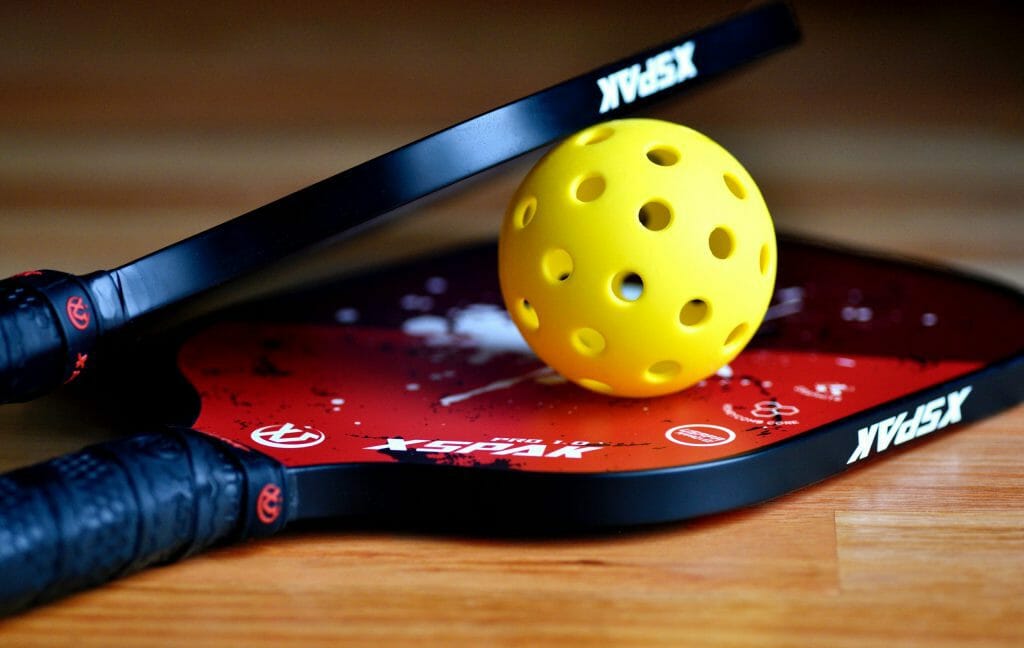 Pickleball Court Flooring
Pickleball is one of the fastest-growing sports in the United States, and the demand for pickleball court flooring solutions is growing exponentially. When it comes to the safety and longevity of your pickleball court, it is important to choose the right flooring.
A firm surface is required to ensure that the perforated plastic ball used in Pickleball bounces correctly to play effectively. The most common flooring used in sports facilities is hardwood and synthetic, but at VMKON Sports, we have the most innovative flooring solutions that ensure optimal play and performance that will exceed your expectations.
Additionally, our pickleball court flooring solutions are designed to be environmentally friendly, as they are made from recycled materials. This makes them great for indoor and outdoor court installations, as they are non-toxic, non-flammable, and non-allergenic.
Macwood Sports Floorings for Premium Pickleball Court
Hardwood sports flooring is susceptible to environmental factors such as flooding, rainwater, excessive moisture, and termite infestations. To maintain its quality and integrity, it is important to regularly inspect and maintain the flooring to ensure it is free of any potential damage. The limitations of being unable to use the hardwood pickleball court outdoors prevent fans who love to play pickleball in the open area from enjoying the game.
There has been a revolution in the world of sports flooring, with Macwood sports flooring able to offer players a unique opportunity to enjoy hardwood courts outdoors for the first time in history.
Macwood systems are incredibly durable and long-lasting, providing superior protection against all external elements. These pickleball courts are perfect for indoor and outdoor installation, making them an ideal choice for any environment.
Also, Macwood sports flooring systems are easily installed, require little maintenance, and provide many of the same characteristics as hardwood sports flooring, such as superior durability and sound absorption. In addition, Macwood surfaces can be custom-designed with your own logos and designs.
VMKON Dura Interlocking Sports Tile for Budget Pickleball Court
If you are looking for a pickleball court that fits within your budget, the Rebounce from our VMKON Dura series is the ideal choice, whether you are playing indoors or outdoors, check our guide on pickleball court cost. Pickleball practice is made easier in this traditional-style polypropylene sports tile. Its superior quality and competitive price make it a great choice for any pickleball court.
Rebounce offers a unique combination of features that make it the perfect choice for pickleball games. It's 17mm thickness, hard plastic construction, and suspended structural design provide unparalleled ball bounce, excellent durability, and medium cushioning, making it the ideal choice for competitive play.
The grid-open flat surface provides excellent grip and traction for a fast-paced game. Its quick draining and drying feature ensures players can continue playing without worrying about slippery surfaces.
At VMKON, we strive to provide the best pickleball court flooring solutions for our customers, and we are committed to providing the highest quality products and customer service. Contact us today to learn more about our pickleball court flooring solutions or discuss your project.
Rebound interlocking sports tiles are the perfect choice for competition racquet games such as tennis, pickleball, squash, paddleball, etc. Rebounce is a durable, heavy-duty, and color-retaining material. Because of its unique expansion joints, it has outstanding dimensional stability.

Key Features: 

1. Polypropylene makes Rebounce tough and durable. It's also mechanically tough and strong. 

2. With its unique engineering and extra-weight design, Rebounce gives you a better playing experience.

3. The tiles are easy to clean and come in various colors to match your child's favorite sports team.

Macwood outdoor flooring is designed to resist weathering and stain buildup. You can enhance your outdoor sports performance by bringing a hardwood court outside for the first time with Macwood Standard Outdoor.

Key Features: 

1. Complies with FIBA Level-2 for wooden floors. While the flooring has the appearance and feel of maple wood, it is made entirely from synthetic materials.

2. An extremely durable, UV-resistant wear layer on the tread surface provides high traction and a gripping surface.

3. These materials are highly resistant to water, UV light, termites, heavy loads, chemical agents, and other risks.