Macwood Pro Outdoor Flooring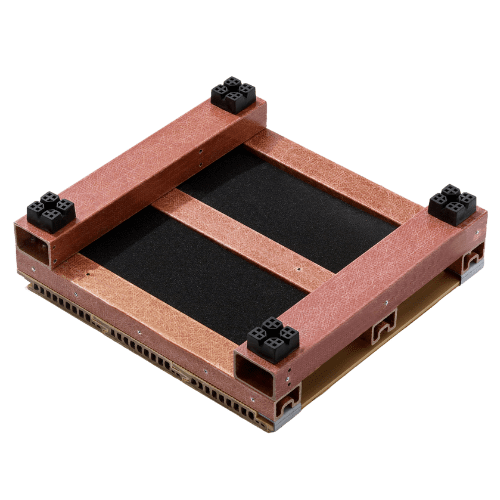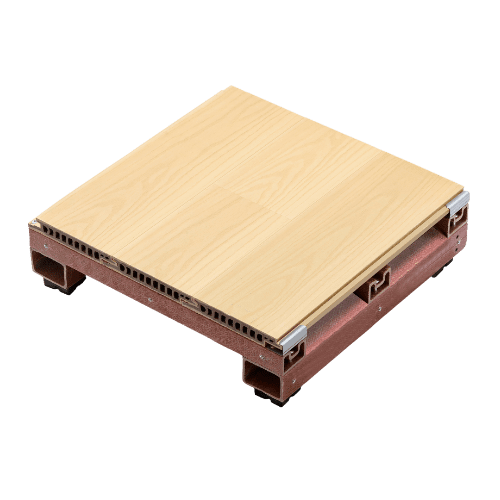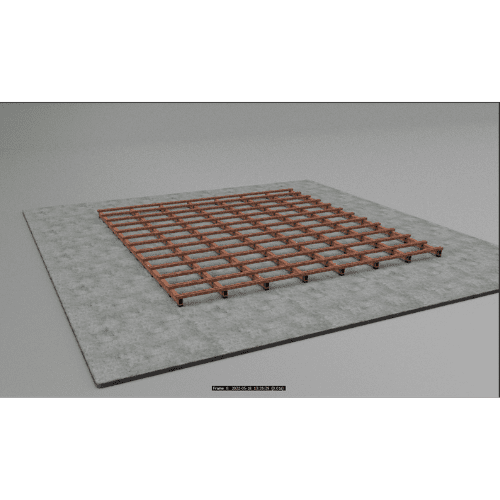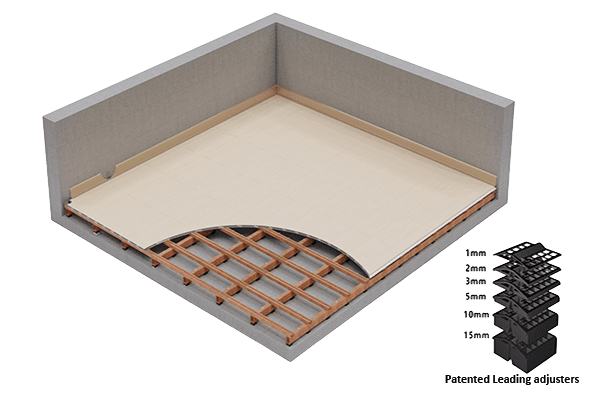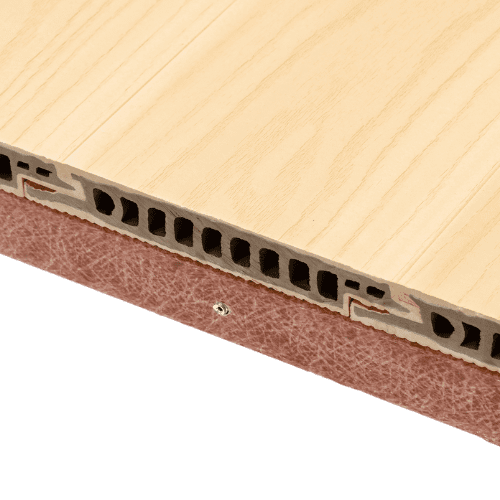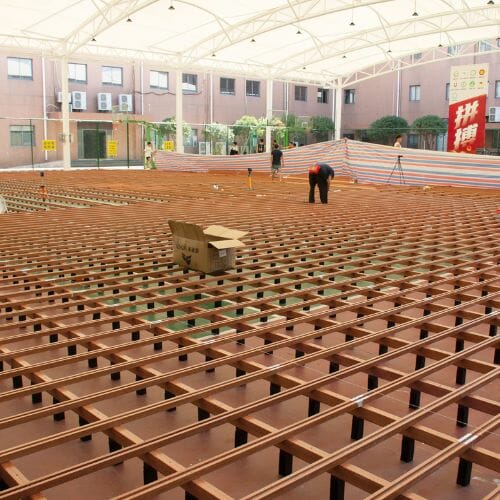 Macwood Pro Outdoor Flooring​
The Macwood Pro Outdoor Flooring provides the ultimate FIBA Level-1 hardwood basketball court experience outside. Taking your backyard court to the next level will be a lot of fun and competition.
With the revolutionary VMKON Reinforced PremoFiber material, the Macwood Pro Outdoor provides an unparalleled outdoor basketball playing experience. Its natural wood grain look will add a touch of elegance to any outdoor setting. Plus, its easy-to-install design makes it ideal for DIYers. 
Our Macwood Pro outdoor flooring is designed to provide superior durability and long-lasting beauty to any outdoor space. Made from the highest quality materials, it is designed to resist fading, cracking, and warping for years to come. 
What is Macwood Pro Outdoor Flooring?
The traditional surfaces for outdoor basketball courts include concrete, asphalt, perforated hard plastic tile, and acrylic. However, hardwood sports flooring systems, considered one of the most durable basketball court flooring options, have been considered impractical for outdoor use due to their exposed nature.
It is difficult for wooden court flooring to withstand the forces of nature if it is installed outside. Many factors can quickly and easily damage wood, such as rain, sunshine, termites, and other elements. Choosing a durable, weather-resistant wood such as teak or cedar and treating it with a protective sealant to guard against moisture and insects will ensure the longevity of the wooden court flooring.
VMKON Sports has revolutionized the outdoor sports industry with the Macwood Pro Outdoor, owing to its advanced composite technology and innovative structural design. Even in extreme weather conditions, the material is exceptionally durable and stable.
You will experience the ultimate basketball playing experience on your Macwood Pro Outdoor System as if you were playing on an NBA-level court. Thanks to its low-maintenance design, you can relax and enjoy your basketball games without worrying about maintenance.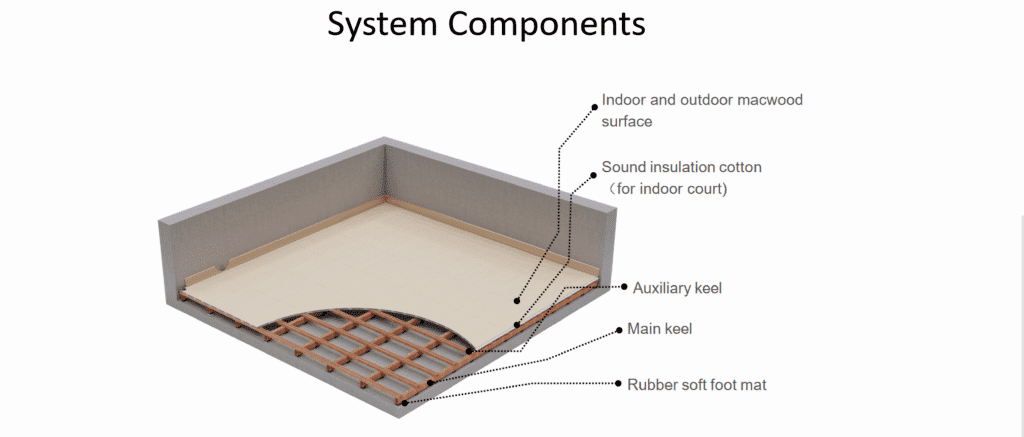 Macwood Sports Flooring VS Hardwood Sports Flooring
Macwood Flooring Systems
Prevailing Hardwood Flooring Brands
Performance and Durability Comparison
Area-elastic
FIBA-Approved Performance
Waterproof
Humidity-proof
Insectproof
Mildewproof
Heavy Load
Outdoor Application
Life-Cycle Cost Comparsion
Initial Construction Cost
Medium-High
High
Maintenance Cost
Low
High
Damage Risk
Low
High
Excellent Athletic Peformance
With its NBA-level basketball flooring performance, Macwood Pro Outdoor meets the FIBA Level-1 standards for wooden court flooring. For any basketball court, this top-of-the-line system provides superior performance and durability. With a shock-reduction rating of 61%, it greatly reduces stress on players' muscles, joints, and lower backs, increases athletic comfort, and ensures their safety.
Also, the game surface offers a consistent ball rebound rate of 95% and a remarkable slip resistance rating of 88 BPN in dry conditions, ensuring a smooth, fast, and competitive gaming experience. Additionally, VMKON's wear layer provides a superior surface treatment, reducing the possibility of friction burns caused by falls or trips.
Features
Application
Colors
Specifications
Warranty
Features
Meets the requirements of FIBA Level-1 court for wooden flooring.
Maple wood look and feel but it is a 100% synthetic concept
Patented plastic leveling adjuster for a smooth and leveled court surface.
Heavy-duty, UV-resistant wear layer surface offers regulation grip and traction
Not prone to thermal expansion and contraction due to changing weather.
Durable against water, UV, termites, high impact, heavy load, chemical and other risks.
Low maintenance cost except regular cleanings
Non-toxic, food-grade material with compliance with EN REACH and ROHS code.
Anti-fungus, antibacterial and anti-mildew
3 Standard color options and custom color available 
Custom logo, graphics and color scheme available
Application
Colors
Specifications
Warranty
More Features of Macwood Pro Outdoor Flooring System
The Macwood Pro, Outdoor floor covering is known as impermeable outdoor sports court flooring that must be laid on a slight slope to facilitate the effective drainage of rainwater. The slope is essential to the continued availability of the court and the ability to play on it.
The Macwood outdoor system is installed similarly to how we install hardwood courts, but some differences exist. Please check our comprehensive installation guide and video for further information and instructions.
It is very simple to maintain the Macwood Pro Outdoor System. With our patented VMKON Wear Layer, the garment is UV-resistant and heavy-duty, making it very durable and able to last for many years. Simply use a water hose or a leaf blower to clean it. There is no need to purchase expensive machinery or to use specialized chemicals.
Cleaning dirt and stains with mild soap is recommended since it is antifungal, antibacterial, and anti-mildew; this contributes to maintaining a healthy court environment. This soap is also gentle enough to be used on the court without causing any damage to the surface.
Macwood Pro Outdoor Flooring can help create a professional-quality basketball court in your backyard or outdoor sports area to impress your neighbors. 
Order Your VMKON Macwood Pro Outdoor Flooring Now and Enjoy Superior Durability and Style. 
Please contact us to discuss your Outdoor Flooring project. We look forward to hearing from you and helping you make the best decision for your outdoor space.
Macwood Pro Indoor Basketball Court Flooring