Choose the right volleyball court flooring whether it's indoors or outdoors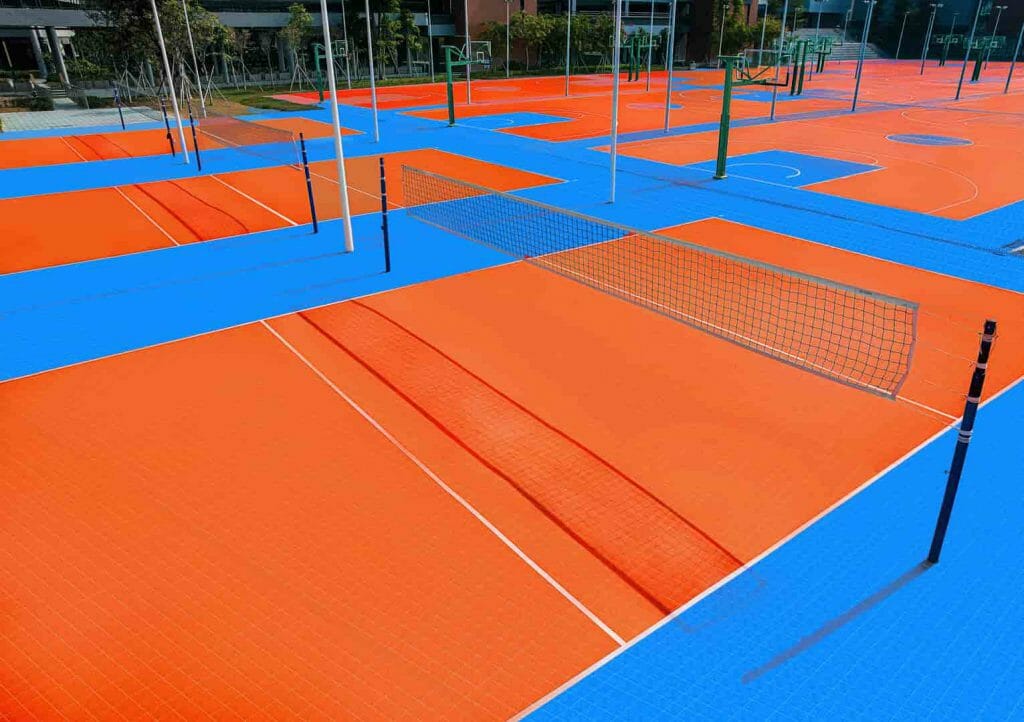 Volleyball Court Flooring
The sport of volleyball requires you to do a lot of intense stuff, like sprinting, digging, diving, hitting and jumping. Volleyball court flooring is a surface specifically designed for the sport of volleyball. It is typically made of wood, synthetic material, or a combination of both and is installed in the playing area of a volleyball court.
Volleyball hardwood flooring is an expensive and difficult-to-maintain court floor. To address this issue, VMKON has developed an innovative alternative – Macwood Volleyball Hardwood flooring. This flooring reproduces the characteristics of traditional hardwood flooring but is easier to maintain, cost-effective, and easy to install.
Hardwood Flooring for Volleyball Courts
''VMKON Sports offers you a wide range of flooring options, so you can do all this and more.''
The main function of volleyball court flooring is to provide a stable, level, and shock-absorbing surface for players to move on during the game. When diving or sliding during a volleyball match, you need a high-quality surface with outstanding cushioning, high-energy return, and sufficient traction to keep everything moving quickly and efficiently.
Many types of volleyball court flooring are available, each with specific features and benefits. Among the advantages of volleyball hardwood flooring are the ease of installation and maintenance and its ability to be used outdoors. Moreover, polypropylene-based interlocking tile flooring has less resilience and is harsh on players' skin due to deteriorating welding joints.
The VMKON Sports flooring solutions have addressed these issues by providing high-performance products that are more durable, safer, and more comfortable. By providing high-quality sports flooring products, VMKON Sports also offers services to help customers design and install their ideal volleyball court.
Volleyball Indoor Hardwood Flooring
Indoor volleyball is typically played on hardwood floors, which provide a smooth and flat surface for players to move around on. The hardwood used for indoor volleyball courts is typically made of maple or oak and is sanded and sealed to create a consistent playing surface.
The hardwood flooring used for indoor volleyball courts must meet certain specifications in terms of thickness, shock absorption, and coefficient of friction. The floor must also be able to withstand the wear and tear of regular use and must be easy to maintain and clean. VMKON Volleyball court floor contain all these qualities.
Regular maintenance of the hardwood flooring is essential to keep it in good condition and to ensure safe play. This may include regular cleaning, sanding, and refinishing as needed. It's also important to protect the floor from moisture, as excessive exposure to water can cause warping or buckling of the hardwood. To counter these problems VMKON worked on new synthetic wood floor which is easy to maintain and resist any type of weather.
VMKON Sports Flooring provide a stable and reliable playing surface that allows players to perform at their best. 
Macwood Sports Floorings for Premium volleyball Hardwood Flooring Court
We offer Macwood Pro and Macwood Standard flooring systems as an alternative to indoor hardwood flooring. For high-end tournament-level volleyball courts, hardwood flooring is being brought outdoors, changing the landscape of the outdoor sports court industry. It is also a great upgrade from indoor hardwood floors. FIBA approves it as level-1 flooring for 3 x 3 courts. Macwood Pro also meets FIBA Level-1 flooring requirements.
Unlike hardwood flooring, this revolutionary concept does not suffer any disadvantages associated with hardwood sports floorings, such as soaking up moisture from rain, rising moisture, and termite infestation.
You can play outdoor volleyball on the same playing surface as hardwood flooring with Macwood outdoor flooring, which is awesome.
Additionally, using Macwood Indoor flooring can reduce gym managers' daily energy costs since Macwood flooring does not require the HVAC system to run continuously to keep it smooth.
VMKON Interlocking Sports Tiles for More Affordable Volleyball Court
VMKON Interlocking Sports Tiles are flooring specifically designed to construct affordable and new-generation volleyball courts. These tiles are made of high-quality materials resistant to wear and tear, making them suitable for use in high-traffic areas such as sports courts.
If you are searching for the best interlocking sports tiles, we recommend the VMKON Rezil Series. These tiles offer superior athletic performance and excellent shock absorption and are extremely skin-friendly compared to traditional hard plastic (polypropylene) interlocking sports tiles.
With superior features over traditional PP tiles, VMKON Rezil interlocking sports tiles are made from an advanced elastomer material. The VMKON Rezil tiles provide a sturdy base that enhances energy return for players as they are heavier than traditional PP sports tiles. With VMKON Rezil, you can easily meet various flooring performance requirements and budgets.
The GameChanger+ is the highly recommended flagship product from the VMKON Rezil series and is FIBA-approved level-1 synthetic flooring for 3×3 courts. It is regarded as the best interlocking sport tile due to its superior comfort and safety, boasting a 30% shock absorption rate – almost double that of the best traditional pp sports tile available. You can check pour guide for Volleyball court dimension so you can design your court according to space in your backyard or indoor you can also design and choose color by using our court builder app.
Furthermore, its unique surface design with rounded squares balances slip resistance and skin abrasion. Soft-touching texture combined with rounded squares virtually eliminates friction burns when you fall or slide.
For its high performance, budget-friendliness, and dimensional stability, GameChanger from the VMKON Rezil series is recommended as the second commercial-level tile product. Your court will appear attractive due to its unique surface pattern and matte finish.
As a result of its exceptional resilience, it offers much greater protection for your players than traditional PP sports tiles. With the patented LoopFlex technology installed in the expansion joints, the sports court provides extra conformity and dimensional stability, and extra compliance to the undulations on the subfloor.
Our last product for you is HomeGamer from the VMKON Rezil series if you are considering an affordable volleyball court for your backyard. Compared to hard plastic surfaces, the features of elastomer material provide a much more resilient surface that provides a soft, comfortable feel to your family members.
A home game volleyball court with an open-grid surface offers adequate grip and traction, fast drainage, and efficient airflow so the court can be prepared for the next game as quickly as possible following a rainstorm.
The new generation and best ever plastic interlocking sports tile in the industry.

1. Certified as synthetic flooring for FIBA for 3×3 & Outdoor Flooring.  

2. Unmatchable athletic comforts and with 100% ball rebound rate. 

3. Minimizes skin abrasions by its surface design. 

4. LoopFlex expansion joints offers exceptional dimensional stability and conforms to minor undulations.

An affordable yet great option for commercial-level or heavy-use sports courts.

Key features include:

1. Excellent athletic performance with uniform ball bounce.

2. The characteristic resilience offers excellent cushioning for joint protection.

3. The unique surface design with matt finish ensures great grip and traction.

4. The patented LoopFlex connector in expansion joints prevents the court from cupping or warping issues.

5. Durable and long-lasting color retention.

Specifically designed for residential and backyard courts.

Key features include:-

1. Its structural design offers more energy return with consistent ball bounce.

2. The featured cushioning combined with the velvety material texture protects players.

3. The grid-open surface design offers great grip and traction.

4. Long life due to its weathering-resistance properties.

5. Food-grade materials used make it kids and pet-friendly. 

Upgraded alternative to premium indoor hardwood sports flooring.

Key Features Include:-

1. Athletic performance by fully meeting the requirements of FIBA level 1 court for wooden sports flooring 

2. Unmatchable durability and dimensional stability against temperature and climate changes. 

3. Low maintenance cost without need for opening HVACs

4. Custom color, logo and graphics available for team promotion and sponsor marketing.