3X3 Indoor and Outdoor Basketball Court
TRY PLAYING BASKETBALL ON VMKON'S BASKETBALL COURT FOR SOME GREAT BASKETBALL FUN!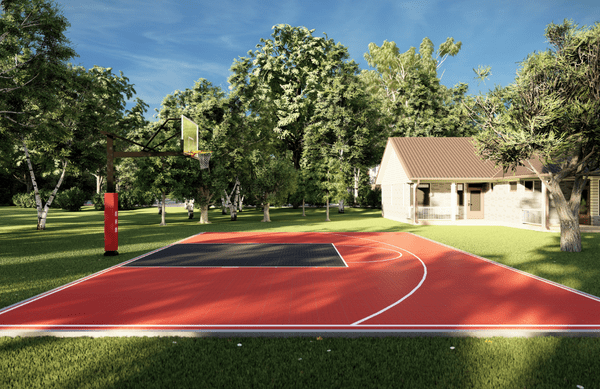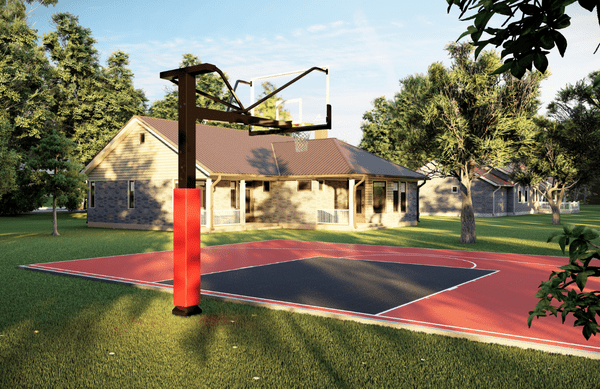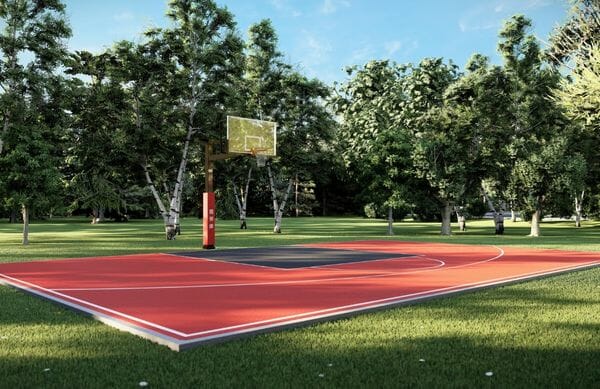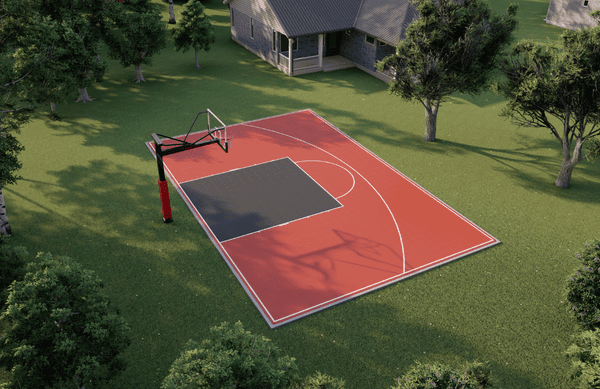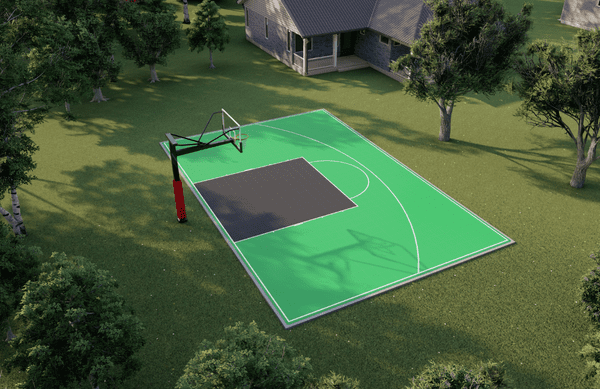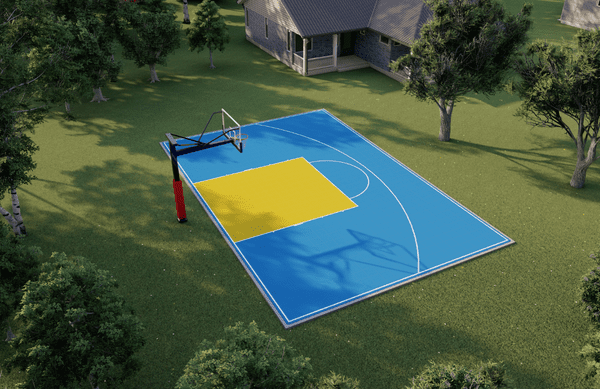 Indoor and Outdoor 3x3 Basketball Court
Creating a half basketball court for your home or gym? Look no further than 3X3 Basketball Court tiles.
3×3 Basketball is an incredibly fast-paced game with no breaks in between. To ensure the safety of the athletes, a court is needed that can withstand heavy foot traffic and rapid movement.
VMKON Sports courts are the perfect choice for this high-intensity sport, providing a safe and reliable playing surface that can handle the demands of the game.
Hardwood flooring and interlocking sports tiles are two of the most popular surfaces used for sports flooring. While each has its own advantages, VMKON Sports provides superior flooring solutions that offer superior durability and performance.
Our Macwood flooring is an advanced version of Hardwood flooring that is suitable for outdoor use, while our GameChanger series is renowned as the world's finest interlocking sports tile. 
Dimension of 3x3 Basketball
3×3 basketball is a fast-paced, half-court version of traditional basketball that involves two teams of three players each. The game is played on a rectangular court with a single basket and a smaller ball than in traditional basketball.
The standard FIBA 3×3 basketball court is a rectangular playing surface that measures 15 meters (49.21 feet) in length and 11 meters (35.76 feet) in width. It has a single basketball hoop or basket positioned at the center of one of the shorter ends of the court.
The smaller court size and fewer players on the court create a more intense and physical game than traditional basketball.
The 3×3 basketball court is smaller than a traditional full-sized basketball court, which makes it ideal for playing in smaller spaces and for organizing tournaments and events in urban areas where space is limited.
The Hardwood Sports Floorings For Half Basketball Court
Macwood Sports Floorings is the latest in hardwood sports flooring technology, designed to meet the needs of both professional and amateur athletes. For premium 3×3 Indoor and Outdoor basketball courts, Macwood Pro and Standard Indoor flooring systems are designed to provide an upgraded alternative to traditional hardwood court flooring. 
With the Macwood sports flooring system, facility managers can rest assured that their courts will remain intact even in heavy rains. Macwood flooring is highly resistant to changes in moisture levels, termite infestations, cracking issues, and any damage caused by accidental water soaking. This makes Macwood a reliable and durable option for any facility.
The tiles also feature an easy-to-clean surface, making maintenance simple and quick. With Macwood Sports Floorings, athletes can enjoy the same quality and performance as a professional court or field.
GameChanger+ VS Prevailing PP Basketball Tiles
GameChanger+
Prevailing PP Tile brands
Fiba Requirements
Performance Comparison
Stress Release for Joints
★★★★★
★★★
Impact Protection
★★★★★
★★★
Skin Friendliness
★★★★★
★★★
All Weather Durability
★★★★★
★★★★★
Dimensional Stability
★★★★★
★★★★★
Color Retention
★★★★★
★★★★★
Specification Comparison
Thickness
19mm (3/4')
16mm (5/8')
Weight
8800g/sqm (1.8lbs/sqft)
3720g/sqm (0.76lbs/sqft)
Force Reduction
30%
15%
25%
Ball Rebounce Rate
100%
≧97%
≧90%
Anti-Slip
90
100
≧80 , ≦100
Permeability
≧10,000mm/h
≧10,000mm/h
≧150mm/h
Environment-Friendliness
Pass
Pass
3X3 Basketall Flooring Tiles
GameChanager+ is a revolutionary new sports flooring tile system that provides superior performance and durability for athletes of all levels.

1. FIBA Certified for 3×3 & Outdoor Flooring.  

2. Its surface design provides superior stability and skin absorption.

3. Easy-to-install features a unique interlocking design that allows for quick and accurate installation

4. LoopFlex expansion joints offers exceptional dimensional stability and conforms to minor undulations.

Designed to reduce impact and improve traction, these tiles are ideal for any sports facility, offering an economical solution that doesn't sacrifice performance. 

Increased traction for a more stable surface
Exceptional athletic performance and uniform ball bounce.
Reduced impact for a safer playing experience.
Customizable design to fit any sports facility.
LoopFlex connectors in expansion joints prevent the court from warping or cupping.

HomeGamer is a leader in the sports flooring tile industry explicitly designed for backyard courts in residential areas.

Key features:

Durable yet lightweight design for easy installation and movement. 
Ball bounce is consistent due to its structural design.
Grid-open surfaces provide excellent traction and grip.
Unique designs and vibrant colors create an eye-catching gaming setup. 
Combination of cushioning and velvety material textures protects the players.
Innovative Interlocking Sports Tile for Your 3x3 Backyard Basketball Court
For those looking for top-of-the-line interlocking sports tiles for their backyard basketball courts, the FIBA-approved GameChanger+ or the GameChanger from VMKON Rezil Series are excellent options! These tiles are designed to provide superior performance and reliability to ensure the best playing experience.
GameChanger+ is the premier product of the VMKON Rezil series. It is widely regarded as the ultimate interlocking sports tile for basketball due to its superior athletic performance, shock absorption, and unparalleled durability.
Its superior resilience, reinforced with a 19mm thick design, offers more than 30% shock reduction, almost double the best polypropylene-based sports tile available in the market. However, GameChanger+'s 100% ball bounce rate surface ensures that it never compromises its athletic performance.
GameChanger+ features an ergonomic design, featuring a unique rounded square surface pattern and a skin-friendly texture. This combination ensures an optimal balance between traction and abrasion, making it a perfect choice for any gaming enthusiast.
The VMKON Rezil series' GameChanger interlocking sports tile is the most popular option for its unique aesthetic and perfect balance of performance and cost. It's comfortable, strong, provides a high-energy return, and is incredibly affordable, making the GameChanger tile a great choice.
The patented LoopFlex technology used to engineer the expansion joints of both GameChanger+ and GameChanger provides excellent conformity to the undulations on the subfloor, as well as outstanding dimensional stability to the court against temperature changes. This ensures a smooth, consistent playing surface, no matter the conditions.
HomeGamer Interlocking Sports Tile
A Budget-Friendly Interlocking Sports Tile for Residential Basketball Half Court.
Our HomeGamer tile is specifically designed for backyard and residential basketball half courts. This innovative thermoplastic elastomer tile provides unmatched resilience and a skin-friendly texture, giving your family more protection and comfort than traditional PP-based sports tiles. HomeGamer is the perfect choice for any home court, providing a premium playing experience.
HomeGamer features a double-layered structural design for superior energy return and a consistent ball bounce rate. 
The open-grid surface pattern ensures fast drainage and increased airflow, so the surface is always ready for the next game. It also helps to provide a more comfortable playing experience, as the surface can quickly recover from the impact of each game.
What size is a 3 by 3 basketball court?
A 3 by 3 basketball court, also known as 3×3 basketball court or half-court, measures 15 meters (49.21 feet) in length and 11 meters (36.09 feet) in width.
What is the 3x3 court made of?
Is 3x3 played on a full court?
No, 3×3 basketball is not played on a full court. Instead, it is played on a half court with a single basket. The playing area is typically 15 meters by 11 meters, which is roughly one-third the size of a standard basketball court. The court is also marked with a 3-point line that is closer to the basket than the 3-point line in traditional basketball. The smaller court size and the presence of only one basket make for a faster-paced and more physically demanding game, with more opportunities for players to score and showcase their individual skills.
How high is a 3x3 basketball ring?
The height of the 3×3 basketball ring or basket is the same as in traditional basketball, which is 3.05 meters (10 feet) above the ground. The height of the basketball ring is regulated by FIBA (International Basketball Federation) and is the same for both men's and women's competitions.
In addition, the backboard of the basketball ring is also smaller in 3×3 basketball compared to traditional basketball. The size of the backboard is 1.2 meters (3.94 feet) wide and 0.9 meters (2.95 feet) tall. This smaller size makes it easier for players to shoot from behind the arc and also allows for more space on the court.