As racket sports continue to gain popularity, there has been an increasing debate over the differences between badminton courts and pickleball courts. While both sports may seem similar, they are played on different types of courts and have different rules and equipment.
If you're considering picking up a racket and want to know the differences between a badminton court vs pickleball court, this blog post is for you. We will explore the key features of each court and discuss how they impact gameplay.
So, whether you're a professional badminton player or looking to try out pickleball for the first time, keep reading to find out which court is the best fit for your game.
Let's started
Quick Overview of Badminton Vs Pickleball
Badminton vs pickleball are two racquet/paddle sports that share similarities in court size but have significant differences. Both sports enjoy a global following, but pickleball, being the newer of the two, is experiencing a rapid growth in popularity.
While badminton made its debut in the Olympics in 1992, pickleball has yet to reach the Olympic stage, but it is on a promising journey. Pickleball is often described as a fusion of tennis, badminton, and table tennis, all of which are Olympic sports.
This combination of elements contributes to its unique gameplay and appeal. As a result, pickleball is gaining popularity and attracting an increasing number of enthusiasts worldwide.
Difference Between Badminton Court Vs Pickleball
When it comes to racquet sports, badminton and pickleball are two popular choices that offer exciting gameplay for players of all skill levels. While both sports share similarities.
Throughout this section, we will explore the specifics of badminton court vs pickleball court size to help you gain a better understanding of these sports.
Pickleball Court Size
When it comes to the size of the courts, there are some similarities between badminton and pickleball, but they are not the same. A standard pickleball court size is 44 feet long and 20 feet wide, including the boundary lines. This is similar to a doubles badminton court.
Badminton Court Size
On the other hand, a standard badminton court has different dimensions. For doubles gameplay, it is also 44 feet long and 20 feet wide. However, for singles gameplay, the width is reduced to 17 feet.
Pickleball Court Layout
In pickleball, there is a specific layout for the court. It has a 7-foot non-volley zone, also known as the kitchen, which extends to both sides from the center line under the net.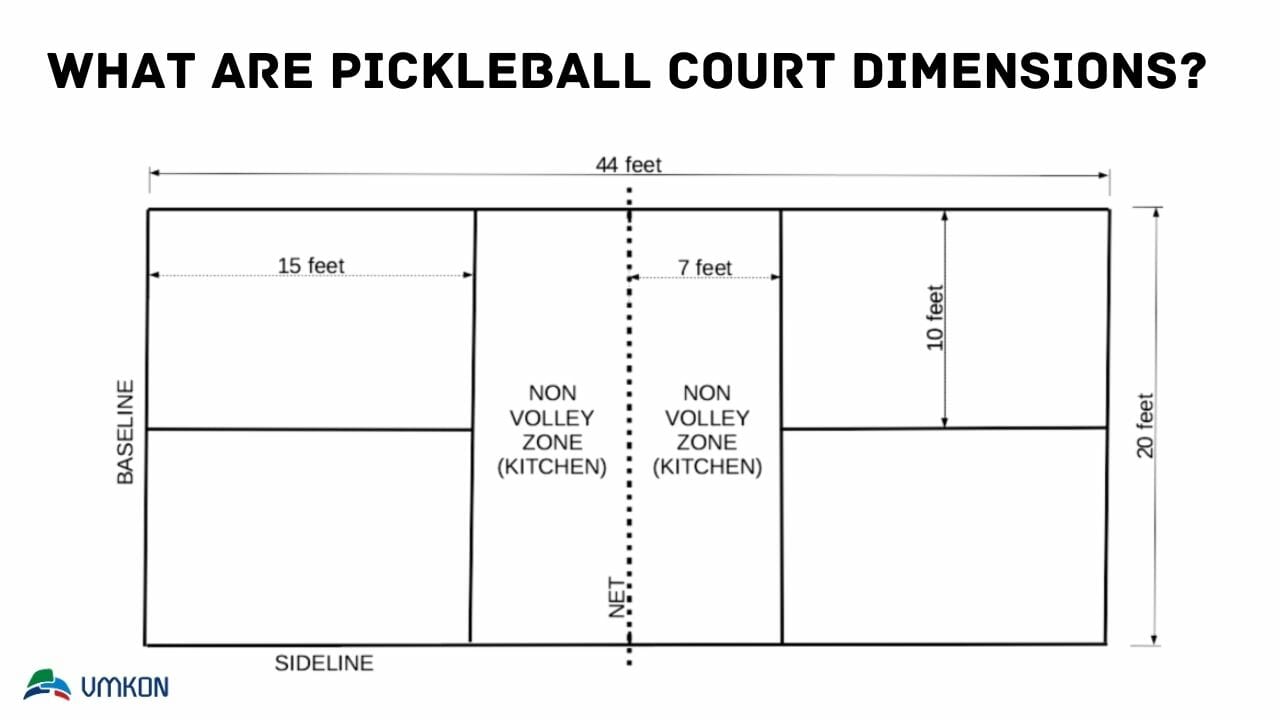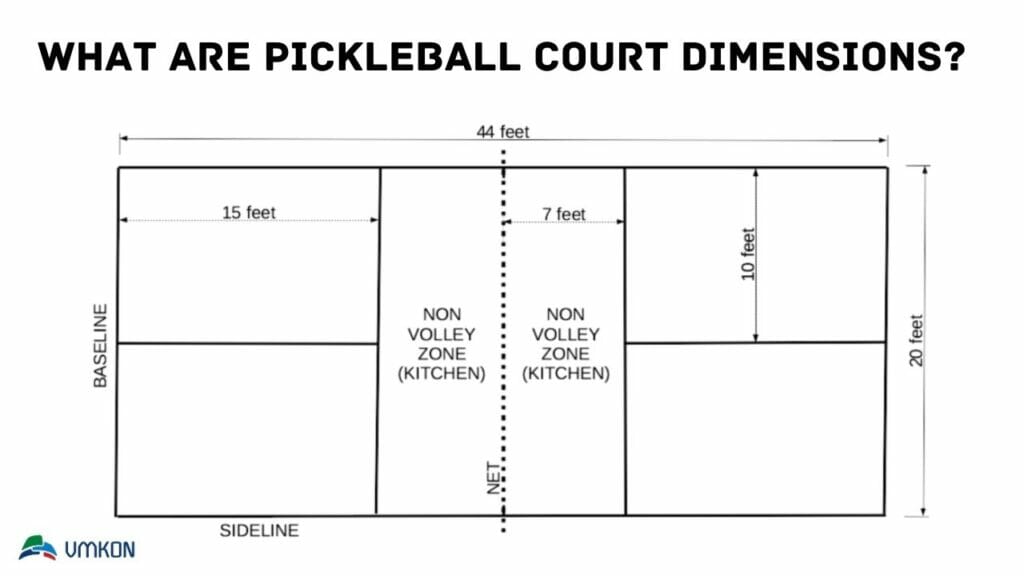 Approximately 15 feet are needed to reach the baseline at the back of the court from the kitchen line. The area is divided into two 10-foot wide halves by a center line, which is used to distinguish the right and left service areas.
Badminton Court Layout
Badminton courts have a different layout compared to pickleball courts. In badminton, the court is divided vertically down the middle to distinguish the service areas. This applies to both doubles and singles gameplay.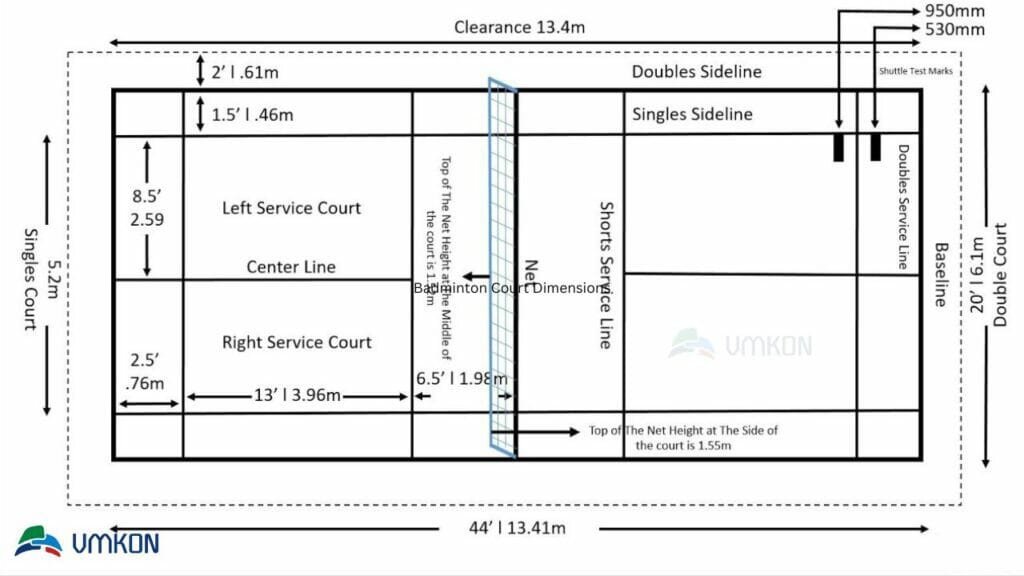 For doubles, there is a shorter back service line, meaning that serves have to land 2.5 feet closer to the back line to be counted in bounds.
The inbound serving area is wider but shorter in a doubles game. Furthermore, badminton courts also have a non-volley zone that measures 6.5 feet from the center line (the net) on both sides.
In short, while badminton and pickleball courts have some similarities in terms of dimensions, there are distinct differences in their layouts. Understanding these differences is essential for players to excel in their respective sports.
Pickleball Vs Badminton Net Height
When it comes to the dimensions of the net, there are some key differences between pickleball and badminton. Let's take a closer look at the net dimensions for each sport.
Pickleball Net Dimensions
In pickleball, a standard court features a net that spans the entire 20-foot width of the court. The net is designed to be 36 inches high at the sidelines and 34 inches high in the middle.
To ensure fairness and balance, all players must follow these rules. Similar to a tennis net, the bottom edge of the pickleball net nearly touches the ground.
Badminton Net Dimensions
On the other hand, badminton also has specific net dimensions. A badminton net, like the pickleball net, spans the entire 20-foot width of the court. However, the supporting poles for the badminton net are placed over the doubles sidelines, even when singles games are being played.
Badminton nets are generally wider than pickleball nets, measuring 2.5 feet in width. They are also suspended above the ground at a specific height. The width of a badminton net is 2.5 feet, and it is suspended above the ground at a height of 5 feet and 1 inch at the edges.
In the center, the net is slightly lower, measuring 5 feet in height. This ensures that the net is at an optimal height for fair play and allows players to clear the net with their shots.
Shortly, while both pickleball and badminton have nets that span the entire width of the court, there are distinct differences in their dimensions.
Badminton and Pickleball: Similarities
Pickleball and badminton are two popular sports that have several similarities. Both games require players to use agility, reflexes, and coordination to hit a ball into the opponent's court.
Pace of the Game
One of the key differences between pickleball and badminton is the pace of the game. Pickleball is generally slower-paced compared to badminton. In pickleball, the ball can only be hit by hand, while in badminton, players can use a stick or racket to hit the ball.
This slower pace in pickleball allows players more time to react to their opponent's shots, making it less likely for mistakes to result in a loss of points.
Number of Balls
Another important distinction between pickleball and badminton is the number of balls used. In pickleball, each player has only one ball at a time, while in badminton, players typically have multiple balls, usually up to four, in play.
This difference in ball usage in badminton encourages a more strategic approach, as players need to carefully plan their moves to avoid getting hit by their opponents.
Serves in Pickleball Vs. Serves in Badminton
Though pickleball and badminton share similar serves, there are some notable differences. In badminton, players have to use spins and elevations to send the shuttlecock above their opponents' court, aiming to land it at either end of their half-court.
On the other hand, pickleball serves rely more on power than accuracy. Players typically hit hard and fast shots toward each other to score points at the opposite net.
Differences in Gameplay
In addition to the similarities, there are also significant differences in gameplay between pickleball and badminton. In badminton, the receiver has more influence on where the shuttlecock is sent back through footwork and positioning. In pickleball, it is harder to predict the direction of the ball since both players usually hit shots together.
Final Thoughts
both badminton court vs pickleball court have their unique features and advantages. Badminton courts are larger in size and allow for more freedom of movement, making it a great choice for players who enjoy a faster-paced and more dynamic game.
On the other hand, pickleball courts are smaller and more suitable for players looking for a slower-paced and strategic game. Ultimately, the choice between a badminton court and a pickleball court depends on your personal preferences and the style of play you prefer.
Whether you're a badminton enthusiast or a pickleball fan, both courts provide exciting opportunities for players to engage in friendly competition and improve their skills.
FAQs
Can Pickleball Be Played on a Badminton Court?
It is possible to play pickleball on a badminton court. The dimensions of a badminton court are similar to those of a pickleball court.
However, some modifications might be needed, such as the addition of pickleball lines and the removal of the badminton net. Overall, with these adjustments, pickleball can be played on a badminton court.
What is Pickleball Court?
Pickleball is a combination of tennis, badminton, and table tennis and is played on a smaller court with modified equipment. Generally, a pickleball court measures 20 feet wide by 44 feet long, which is ideal for doubles play.
The court is divided by a net, and each side is further divided into two service areas and a non-volley zone or "kitchen." The surface of a pickleball court can vary, but it is typically made of asphalt or concrete. Alternatively, you can use another best option, VMKON SPORTS COURTS.
Can You Play Pickleball and Tennis on the Same Court?
Yes, it is possible to play both pickleball and tennis on the same court. The dimensions of a pickleball court are smaller than a tennis court, so if you have access to a tennis court, you can easily set up pickleball lines and play both sports on the same court.
However, it is important to note that pickleball lines may differ slightly depending on the specific rules and regulations of your location.