Basketball Portable Backdrop - Titan Series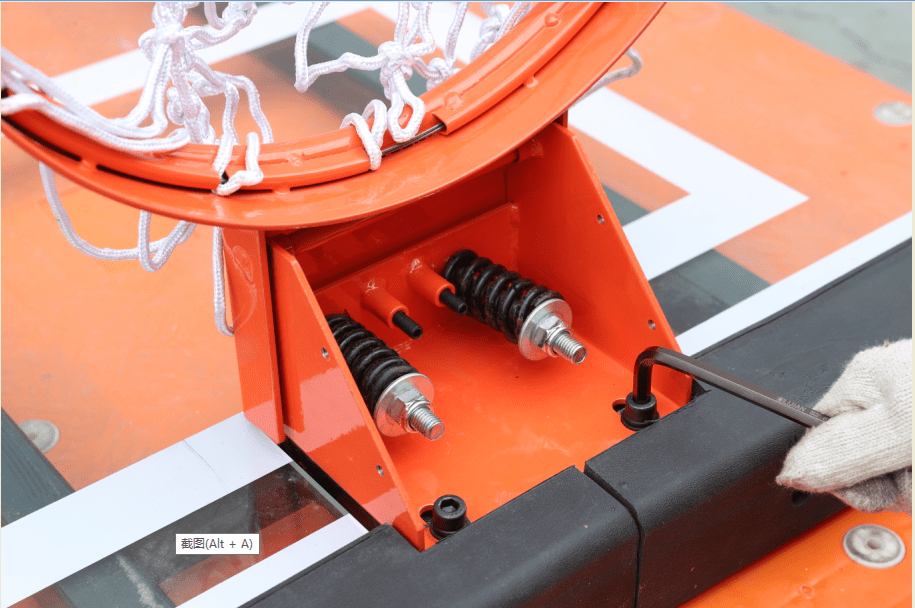 Portable Basketball Backstop - Titan Series
With its patented design, Titan Series Portable Backstop meets the strict FIBA requirements for level-2 basketball backdrops. This includes all equipment configurations and assembly elements that must meet regulatory requirements, structural stability, and rigidity.
A thick, durable vinyl padding covers the base of the backstop, and a half-ton ballast provides maximum rigidity while still maintaining portability. This high-quality backstop is designed to provide superior stability and durability, making it an ideal choice for any basketball court. 
With all these features, this backstop provides unmatched versatility and is perfect for any playing level. Whether you're a pro or just starting, the VMKON Titan Series Backstop is perfect for your basketball court
What is Titan Portable Basketball Backdrop?
Undoubtedly, the Titan Portable Basketball Backstop offers exceptional stability and rigidity due to its patented, one-of-a-kind design and an upgraded frame and boom structure. Its unique construction makes it ideal for any basketball court due to its ability to withstand the harshest conditions.
We have specifically built multiple preset goal heights ranging from 2.35m to 3.05m to meet the needs of schools, indoor gyms, and other areas. According to the FIBA specification, the regular boom extension must not exceed 2.25m. 
The boom's mounting plate is made of a heavy-gauge steel tube extending to the steel mounting plate behind the glass backboard, ensuring maximum stability. The competition-grade breakaway rim is securely fastened to the steel mounting plate and is designed to withstand powerful slam dunks and other aggressive moves.
For additional protection and durability, the backboard is made from 12mm thick tempered glass enclosed in a sturdy, welded, reinforced powder-coated aluminum alloy frame.
Features
Application
Colors
Specifications
Warranty
Features
Recommended for gymnasium, training facilities, schools and colleges.
4 preset goal heights for all age groups – 2.35m, 2.60m, 2.75m and 3.05m
Multiple colors available for paddings and powder coating for frame decoration
Custom graphic available for team promotion and sponsor marketing
Collapsible structural design for ease of shipping, installation and setup.
Titan-Kid option available with kid-specific shatter proof glass backboard
Floor anchor system available
Application
Colors
Specifications
Warranty
Additional Features of Portable Basketball Backstop - Titan Series
The Titan Series Portable Basketball Backstop offers a range of innovative features to make your basketball-playing experience even more enjoyable, including:
Protect Your Play Space with a Secure Backstop Base
Solid steel ballast weight is securely contained within a strong steel frame at the base of the backstop. The floor anchoring system ensures that the ballast is securely attached to the flooring surface for enhanced stability and safety. Furthermore, this system ensures that the ballast is securely fastened and will not move or shift while in operation.
Two polyurethane caster wheels are under the backstop's bottom, and two swivel caster wheels are at the front, allowing for smooth and easy maneuvering. This base is equipped with thick, durable vinyl padding on both the front and sides. You can choose any color of your preference for the vinyl padding and powder-coated steel frame.
Multiple Height Configurations
Titan Portable Backstops are available in two sizes for ease of use – one for adults and another for children. In this way, All users can benefit from maximum flexibility. 
With the help of the height-adjustment mechanism behind the glass backboard, users can manually or mechanically adjust the backboard to their desired height.
Unique Customization Choices
Custom graphics can also be printed on the vinyl padding to make your facility stand out and give you a competitive edge on the court. The Titan Portable Backstop is easy to transport, install, and assemble due to its collapsible design. 
Because of its convenient structure, transportation, installation, and setup are made simple and stress-free. In addition to reducing freight costs, the collapsible design allows more units to be packed into one shipping container, resulting in space savings.
Enjoy VMKON Titan Series Portable Basketball Backstop!
VMKON Titan Series Portable Basketball Backstop is ideal if you seek a durable and reliable basketball backstop that meets all FIBA requirements. With multiple preset goal heights to choose from, don't miss your chance to get the best basketball backstop on the market 🤝
Also, Please do not hesitate to contact us if you have any questions or concerns about the VMKON Titan Series Backstop. We are committed to providing you with the best possible service and support. Thank you so much